ISLAMABAD, Pakistan (CNN) -- Pakistan's army chief briefed the country's top leaders Friday on the tenuous security situation as the government combats a new wave of attacks believed to have been orchestrated by Taliban militants.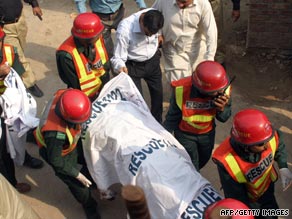 Pakistani authorities remove bodies from the scene of Thursday's deadly attacks in Lahore.
Pakistan's Prime Minister Yusuf Raza Gilani called on army chief Gen. Ashfaq Kayani to address the leaders of Pakistan's political parties, Gilani's spokesman told CNN.
In the high-level meeting, Kayani "gave a detailed briefing on the prevailing national security situation and its ramifications in the future," according to a statement about the session from the prime minister's office. Those who attended the meeting condemned recent militant attacks and "agreed that these elements pose a serious threat to the sovereignty and integrity of the state," the statement said.
Kayani was also expected to address an impending ground offensive in South Waziristan, part of Pakistan's lawless tribal region, according to an official in Gilani's office who did not want to be identified because he was not authorized to speak to the media.
The official would not say if a decision would be made during Friday's meeting about the start date of the ground offensive.
Pakistan's military has stepped up its campaign against Taliban militants in the tribal region, carrying out airstrikes on militant hideouts in South Waziristan that military officials said are aimed at softening up targets before the ground troops move in.

Watch CNN's Reza Sayah describe attacks »
Despite the military offensive, militants have continued to strike with relative impunity inside Pakistan -- raising concerns about the ability of the government's security forces to maintain control.
The latest militant attack happened Friday in Peshawar, when a suicide car bomber detonated near a police station, killing 13 people -- most of them civilians -- authorities said.
Security personnel opened fire on the car when the bomber drove through the gate of the police compound, said Shafqaat Malik, head of a police bomb unit. The vehicle exploded seconds later, Malik said.
The dead include three policemen, two women and a child, Peshawar police official Akhtar Munir said. Ten others were injured.
Friday's violence comes a day after militants launched a string of attacks that killed at least 30 Pakistani police officers and civilians, Pakistani authorities said. At least 10 attackers also died.
Interior Minister Rehman Malik said the Pakistani Taliban claimed responsibility for three of the attacks on Thursday against two police training centers and the country's Federal Investigation Agency in Lahore.
Fears were shaken in Pakistan after a weekend standoff at Pakistan's army headquarters in Rawalpindi, outside Islamabad. The military blamed Taliban militants in South Waziristan for planning the attack in which five militants held dozens of hostages inside the army headquarters for some 22 hours. Eleven military personnel, three civilians, and nine militants were killed in the siege.
A day later, at least 41 people were killed and 45 were wounded in a blast Monday at a security forces checkpoint in the volatile Swat Valley in northwest Pakistan.
The attacks show "once again that the militants in Pakistan threaten both Pakistan and the United States," White House Deputy Press Secretary Bill Burton said Thursday.

He spoke the same day U.S. President Barack Obama signed legislation providing an additional $7.5 billion in assistance to Pakistan over the next five years. The Obama administration is working on a comprehensive review of U.S. strategy in both Pakistan and neighboring Afghanistan.
Pakistan Foreign Minister Shah Mahmood Qureshi had rushed back to Washington this week to report on opposition inside the Pakistani Parliament to the Kerry-Lugar bill, which outlined a five-year package of non-military aid. Some Pakistani politicians claimed the aid bill was an American attempt to micro-manage Pakistan's civilian and military affairs.
E-mail to a friend

-- CNN's Reza Sayah and journalist Nasir Habib contributed to this report.
All About Pakistan • Taliban Movement of Pakistan