KABUL, Afghanistan (CNN) -- Afghan President Hamid Karzai's primary challenger said Monday he is prepared to participate in a runoff vote after a report concluded that Karzai did not win a majority, but he also is willing to consider alternatives.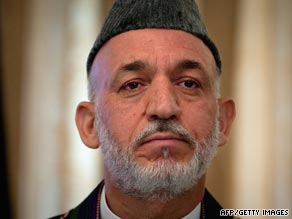 Independent analysis suggests Hamid Karzai failed to score a first round win in August's election.
"While I am prepared to go for a runoff, at the same time the door is open," former Foreign Minister Abdullah Abdullah told CNN's Christiane Amanpour. "There are some practical questions ahead," he noted, citing winter, the security situation "and other realities on the ground."
Abdullah did not specify whether his openness to alternatives meant he would agree to participate in a power-sharing government or something else.
"I think, before getting too specific ... I need to get a mandate from my supporters," he said.
But, he added, his goal has always been "to bring changes to the country" rather than simply to get "one or two posts in the Cabinet."
Abdullah said Karzai's camp had approached his camp a few weeks ago, but the contacts were then cut off. "In the past few days, there hasn't been any contacts or approaches between my camp and Karzai's people," he said.
His comments came hours after an independent analysis of election data released Monday concluded that Karzai did not win enough votes to avoid a runoff against Abdullah.
Amanpour
CNN's Christiane Amanapour interviews Karzai's main rival Abdullah Abdullah Monday October 19
1900 GMT

Democracy International, a nongovernmental organization, found that Karzai secured 48 percent of the vote based on its analysis of data released by the U.N.-backed Electoral Complaints Commission, which invalidated ballots from 210 polling stations.
Under the constitution, Karzai needs at least 50 percent of the vote to avoid a runoff. Last month, final uncertified results showed him with 54 percent.
A senior international official close to the election monitoring process in Afghanistan told CNN the analysis was accurate.
Abdullah has nearly 32 percent of the vote, according to Democracy International.
Under Afghan law, the Electoral Complaints Commission is the final arbiter of fraud, but the authority to order a runoff is in the hands of the Independent Election Commission.
The Electoral Complaints Commission ordered the Independent Election Commission on Monday to invalidate ballots, saying it found "clear and convincing evidence of fraud" in the August 20 presidential election. The 210 polling stations account for less than 4 percent of the more than 6,000 polling stations open during the election.
The complaints commission also recommended that each candidate's overall percentage of the vote be reduced according to previous criteria it set forth as part of its "investigation of polling stations that were highly suspicious of fraud."
In addition, the panel decided that 18 polling stations the election commission had quarantined because of fraud suspicions may be included in the results. It is unclear how many votes that represents.
There was no immediate reaction Monday from the Independent Election Commission. Its spokesman recently said the commission would need a day or two to examine the complaints panel's final report before making an announcement about a runoff.
In Washington, Secretary of State Hillary Clinton said she expected to hear Tuesday from Karzai. "I am very hopeful that we will see a resolution in line with the constitutional order in the next several days," she said.
The results of the election should be settled before the United States makes any decision on sending more troops to Afghanistan, according to U.S. Sen. John Kerry, chairman of the Senate Foreign Relations Committee.
"It would be entirely irresponsible for the president of the United States to commit more troops to this country when we don't even have an election finished and know who the president is and what kind of government we're working in, with," Kerry told CNN's John King in an interview that aired Sunday on "State of the Union."
Kerry was in Kabul over the weekend and, after flying to Islamabad, Pakistan, returned Monday "for a brief period to continue his consultations and discussions," U.S. Embassy spokeswoman Caitlin Hayden said.
The United States and France are urging Karzai and Abdullah to respect the results of the August election in order to ensure the country has a legitimate government.
Afghan election officials have tentatively set November 1 as the date for a runoff if one is necessary. If the election were not held by early November, winter weather would make voting impossible and force a delay until spring of 2010, according to Afghanistan's ambassador to the United States, Said Jawad.

Such a delay, he warned, would be a "recipe for disaster" that would create confusion in Afghanistan and heighten tension between the United States and Karzai's government.
White House Chief of Staff Rahm Emanuel said on "State of the Union" that the White House believes the "end result must be "a legitimate and credible" government that the Afghan people view as valid.
E-mail to a friend

CNN's Thomas Evans and Chris Lawrence contributed to this report.