ISLAMABAD, Pakistan (CNN) -- Pakistani authorities have closed all educational institutions across the county until at least the end of the week, following twin suicide bombings at an Islamic university Tuesday.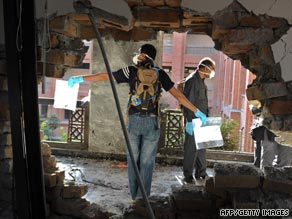 Police investigators collect evidence at the suicide blast site at Islamic International University in Islamabad.
By Wednesday, the death toll from the attacks at Islamabad's International Islamic University had climbed to six. Twenty-nine others were wounded, said Naeem Iqbal of the Islamabad police.
Officials in the North West Frontier Province, Balochistan and Sindh shuttered their schools and colleges until Sunday. Educational institutions in Punjab will remain closed until further notice.
The back-to-back explosions Tuesday took place in the faculty area of the men's section and in the women's section cafeteria at the university.

Watch more about the attacks »
In recent weeks, Pakistan has been relentlessly rocked by suicide attacks as Islamic militants have retaliated against a military offensive to rout insurgents operating along the Pakistan-Afghan border.
Fifteen militants were killed in the offensive between Tuesday and Wednesday, the military said. Three members of the security forces died and seven others were wounded, the military said.

Both sides have released casualty claims daily, but it is impossible to verify the figures. The figures are not a good measure of success in any case, says analyst Reva Bhalla of the global intelligence company Stratfor.
The best way to judge whether an offensive has achieved its aims is to see if the army gains control of territory it had not previously controlled, Bhalla said.
E-mail to a friend

CNN's Reza Sayah contributed to this report.
All About Pakistan • Taliban Movement of Pakistan