ISLAMABAD, Pakistan (CNN) -- Bombings across Pakistan on Friday killed at least seven people and wounded 24, officials said.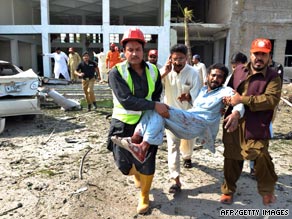 Rescuers carry an injured man from the site of the bomb blast in Pakistan.
Five civilians and two security personnel were killed in the detonation of a suicide bomb near a military facility outside the capital, Islamabad, Cantt District Police Officer Fakhar Sultan said.
Nine people were wounded in that blast, which took place at Kamra checkpoint near the Pakistan Aeronautical Complex, Sultan said. Kamra is about 40 miles (60 kilometers) northwest of Islamabad.
In northwestern Pakistan, at least 15 people were wounded -- nine seriously -- when a car bomb exploded outside a restaurant, said Peshawar District Coordination Officer Sahibzada M. Anis Khan.
The blast occurred near the Swan restaurant in Peshawar's Hayatabad neighborhood, and two suspects were arrested at the scene, police said.
Hayatabad is a mostly residential area in southwest Peshawar, very close to the border with Khyber agency. Khyber is one of seven districts in Pakistan's tribal region along the Afghan border.
Taliban insurgents have staged attacks across the country in recent weeks in retaliation for a military offensive against Islamic militants operating along the Pakistan-Afghan border.
In that offensive, the Pakistani military said Friday that 13 insurgents and two soldiers had been killed and seven soldiers had been wounded in fighting over the previous 24 hours. Both sides have released casualty claims daily, but it is impossible to verify the figures.
Gunmen fired on a military vehicle in Islamabad on Thursday, killing an army brigadier and a soldier. On Tuesday, at least six people were killed and 29 were wounded when suicide bombers detonated explosives in the men's and women's sections of International Islamic University.
E-mail to a friend

All About Pakistan • War and Conflict