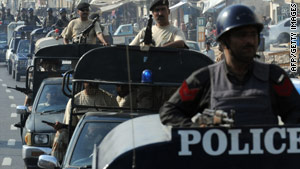 Police patrol a street in Karachi Oct. 26 as public and private schools were closed across Pakistan.
STORY HIGHLIGHTS
Education Ministry: Security precautions have been taken
Many private schools remained closed due to security fears
Private schools are left to fend for themselves, one principal says
Near simultaneous attacks launched on International University of Islamabad
Islamabad, Pakistan (CNN) -- Public schools reopened in the Pakistani capital Monday almost a week after two suicide bombers attacked a university, prompting authorities to shut down educational institutions across the country.
"The federal ministers for the Interior and Education have chaired a meeting of the principals of the local educational institutions and have assured them that all the required security precautions have been taken," said Adeel Javed, a spokesman for the Education Ministry.
But many private schools remained closed on Monday due to security fears and lack of additional protective measures, prinicpals and parents of private school students said.
"The private schools are left to fend for themselves," said one principal of an Islamabad private school, who asked not to be named.
"When we contact the police, they ask us to take security measures on our own. But what measures can we take when even the army's General Headquarters isn't safe?"

Video: Pakistan schools reopen

Video: Face of Pakistan's victims
Earlier this month, militants attacked the headquarters of the Pakistani military in Rawalpindi, where they took hostages and fought security forces for two days before being overwhelmed.
The two suicide bombers on October 20 launched near simultaneous attacks on the male and female campuses of the Islamic International University of Islamabad. The blasts killed six students and a cafeteria worker and wounded dozens of people.
The explosions were a part of a series of recent militant attacks that have spread fear and anxiety among residents of Pakistani cities.
"We never expected it," said Parveen Qadia Agha, the vice president of the Islamic University, several days after the attacks. "The reason could be to create chaos and to create psychological warfare ... and to attack the least expected places creates more havoc."
Many observers see the wave of suicide bombings as retaliation for a nine-day-old Pakistani military offensive against mountainous border region of South Waziristan, which has long been a Taliban stronghold.
The militants are fighting back, often using rockets, mortars and roadside bombs.
The Pakistani military announced Monday that six soldiers were killed and 20 wounded in South Waziristan within the last 24 hours.
On Saturday, a military transport helicopter crashed in another turbulent border region north of the conflict zone, killing six soldiers. The Pakistani military says the MI-17 crashed due to technical malfunctions, but a local intelligence official and a local government official told CNN the chopper was brought down by hostile fire.
Meanwhile, in the southwestern province of Baluchistan, family members are in mourning today after gunmen assassinated the provincial education minister outside his home Sunday.
Unlike northwestern Pakistan, where the Pakistani government has been battling Al Qaeda-linked Taliban guerillas, Baluchistan has been plagued for years by an ethnic Baluch separatist insurgency.