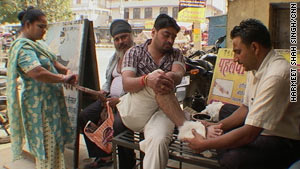 Chaman Lal treats this man, who has injured his ankle. Lal says his potion of 18 herbs is a cure-all.
STORY HIGHLIGHTS
Roadside medicine men say they are traditional healers

They cater to a huge market of poor people

Medical officials estimate there are 2 for every licensed doctor

Health authorities say they act against such practitioners

New Delhi, India (CNN) -- Sitting on an iron bench along a busy street, Chaman Lal sticks his fingers into a mug full of a greasy concoction and then applies the dark-red brew to areas where his patients complain of pain.
Lal -- who does not have a license to practice medicine, but claims to be a successful bone doctor and traditional healer -- says this potion of 18 herbs is a cure-all. His large signboard, placed along the roadside, claims he can even treat paralysis.
"I have a special potion for polio as well. Although I don't get polio cases these days, but it can be cured with that potion and oil massage," Lal said as he rubbed the broken ankle of a young man with the potion.
Part of India's massive informal economy, these street-side medicine men and women are called quacks by the medical association here -- but they say they are traditional healers. They cater to a huge market of poor people who cannot afford costly private health care. The number of such practitioners is unknown.
"There's no firm estimate, but I can say that for every 100,000 qualified doctors in our country, there are 200,000 quacks," said Ashok Adhao, president of the Indian Medical Association. "The practice is condemnable."
Lal runs his clinic like many others practicing his craft: on the road. He doesn't have a nurse, disinfectants, a chair or a table, but people with broken limbs, ruptured muscles, cervical pain and back problems line up to be treated by him.
"I had multiple fractures five years ago. He cured me. I am back again for his treatment after suffering a fall that injured my ribs," said Balkar Singh, who was waiting for Lal to see him.
Lal pays some 3,000 rupees or US$60 a month in rent to a flat owner whose front yard he uses to run his open-air clinic. He earns about that much in one day from his patients -- a decent income in India.
"We are five brothers. We are all in the same occupation that we inherited from our father, forefathers," Lal said.
"I trust him," Amit Vij said of Lal, who was treating his broken ankle.
Practicing medicine without a license is a crime in India. Health authorities say they act against such practitioners.
"There are strict quality controls for health care in place and law takes its course (when violators are found)," said health ministry spokesman Dhiraj Singh.
Yet, unlicensed doctors thrive in the country primarily due to a lack of enforcement, said Adhao, of the medical association.
People are also likely driven to seek out such treatment due to over-crowded and short-staffed state-run hospitals, and costly care at corporate health care centers, Adhao added.
India's per capita income is about $750 a year, according to government figures for 2008-2009, or about $2 a day.
The average cost of a hospital visit in India is not clear, but the country's vice president, M. Hamid Ansari, said in a speech last year: "Though many such private hospitals have been provided government land at concessional rates and favorable customs and tax treatment, there are questions regarding their commitment to provide free or concessional treatment to poor patients."
In another Delhi neighborhood, numerous tents have been set up on footpaths, streets and under bridges where micro-clinics offer so-called "cures" for a variety of sexual conditions, mostly with their own herbal version of Viagra.
Banners hanging over the tents promise guaranteed treatment on cash and credit.
Inside are vials and jars full of powder, salts and herbs placed in order around images of Hindu gods and goddesses.
"We do face problems when police and municipal officers come. But we manage it" by paying bribes, said Shiv Kumar, a caretaker of a sexual disorder-treatment clinic.
Rajiv Singh, a clinic owner lying on a cot outside and under a bridge of New Delhi's prestigious Metro rail, said if his business starts to fall off, he will simply break camp and look for another location with potential new clients. Here, such a move is not a big deal.
He also said the work he and others like him are doing is effective.
"We are treating people for centuries now. Our treatment is there since ages," he said.