In India's villages: No toilet, no bride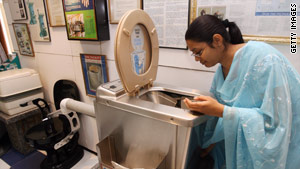 To meet its sanitation goal by 2012, India must build 112,000 toilets a day.
STORY HIGHLIGHTS
To meet sanitation goal, India must build 112,000 toilets a day

Less than 30 percent of people have latrine access

Government offers incentives to build bathrooms

Lack of toilet seen as human rights issue

New Delhi, India (CNN) -- Most Indian mothers want their daughters to marry decent men who make a good living. Now, in parts of rural India, women have a new -- and rather unusual -- demand for matrimony: a toilet.
"No toilet, no bride," has become a rallying cry for women raising a stink about the lack of a basic amenity.
They see it as a human rights issue, especially in villages where plumbing can be nonexistent.
It was that way in Sunariyan Kalan in the northern state of Haryana. Sumitra Rathi said village women had no choice but to relieve themselves without privacy.
They would go before sunrise or hold it in until darkness fell once again to avoid being seen. Or they would walk out to the fields and endure embarrassment. They don't want their daughters to face the same indignity.
"Many of them do make serious inquiries from the families of grooms about latrines," she said.
As a member of the local council, Rathi has helped build toilets in 250 houses in Sunariyan Kalan since 1996.
Still, about five dozen homes lack covered bathrooms.
The problem is so big in India that the country would need to construct 112,000 toilets every day if it wants to meet its sanitation goal by 2012, according to the Ministry of Rural Development.
Even as India emerges as a global economic power, millions of its citizens still live in poverty. The government estimates that less than 30 percent of villagers have access to latrines, which poses serious health risks and increases the threat of deadly diseases like typhoid and malaria.
To help overcome the enormity of the sanitation challenge, the government is offering incentives to encourage villagers to build bathrooms. The poorest
of the poor in Haryana stands to receive Rs. 2,200 ($48) for each toilet they install, said P.S. Yadav, a state coordinator for the sanitation campaign.
The incentives are especially attractive to women, for whom the problem transcends health issues.
Local women, often illiterate, have taken a keen interest in bathroom construction, said Roshni Devi, the council chief in Haryana's Kothal Khurd village.
And through it, they have gained a sense of self, making the lowly toilet seat feel more like a lofty throne.
FOLLOW THIS TOPIC