Thailand recalls Cambodia envoy over Thaksin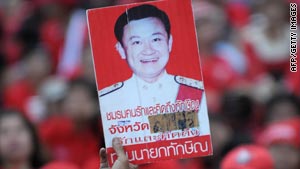 A protester holds aloft a poster of former Thai PM Thaksin in a recent demonstration in his support.
STORY HIGHLIGHTS
Thailand withdraws ambassador to Phnom Penh in protest over Thaksin hire
Former Thai prime minister appointed as Cambodian economic adviser
Billionaire businessman fled Thailand last year after he was charged with corruption
Bangkok, Thailand (CNN) -- Thailand has withdrawn its ambassador to Phnom Penh after Cambodia appointed fugitive former Thai premier Thaksin Shinawatra as an economic adviser, a Thai government official said Thursday.
Along with recalling the ambassador, the Thai government will review further relations with Cambodia, the Thai Ministry of Foreign Affairs said.
Thaksin, a billionaire businessman who served two terms as prime minister, was ousted in a bloodless coup in 2006. He fled Bangkok last year while facing trial on corruption charges that he said were politically motivated.
Though he has fled the country Thaksin remains a controversial figure in Thailand and there have been violent clashes in the country between pro and anti-Thaksin groups.
Cambodia's hiring of Thaksin is an interference in Thailand's internal and judicial affairs, a Thai Ministry of Foreign Affairs statement said.
Cambodian government spokesman Phay Siphan said Thaskin's economic experience could help Cambodia.
CNN's Kocha Olarn contributed to this report.