2 U.S. soldiers missing in Afghanistan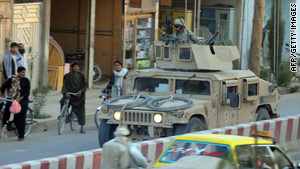 A U.S. military humvee patrols in Kandahar, Afghanistan, earlier this week.
STORY HIGHLIGHTS
NEW: 82nd Airborne paratroopers missing in western Afghanistan
NEW: 25 NATO, Afghan troops injured during search for pair, NATO-led force reports
Soldiers missing since Wednesday, military says
Missing soldiers were on routine resupply mission
Kabul, Afghanistan (CNN) -- Two American paratroopers went missing on Wednesday during a "routine resupply mission in western Afghanistan," the NATO-led force in the country said Friday.
The pair -- from the 4th Brigade Combat Team, 82nd Airborne Division -- are operating under NATO's International Security Assistance Force. Initial reports indicate that 25 ISAF and Afghan forces have been wounded in the search for the two.
"All available resources are being used to find the two missing paratroopers," said the brigade operations officer, Lt. Col. Guy Jones. "Our rear detachment is doing everything they can to support the families during this difficult time while we continue the search with our Afghan and coalition partners."
U.S. Navy Capt. Jane Campbell of the ISAF Joint Command said, "We are committed to taking every measure possible to rescue or recover our missing service members. We continue to do everything we can to find them."
The service members disappeared near Afghanistan's border with Turkmenistan, in the town of Bala Morghab and the province of Baghdis, said Sayed Ahmad Sami, the provincial police chief.
He said they appeared to have gone missing in the Morghab River, but he didn't have any details about what happened.
Service members from 42 countries serve in the International Security Assistance Force, including military men and women from 28 NATO countries, according to ISAF's Web site.
U.S. military personnel account for the bulk of ISAF service members.
Separately, military authorities reported other recent incidents:
• Two U.S. service members and a British soldier were killed in southern Afghanistan on Thursday in roadside bombings, ISAF and the British Defense Ministry said.
• Police in Kunduz province said more than 130 Taliban insurgents were killed in a weeklong Afghan-ISAF operation that began on October 31. Eight Taliban commanders and four Chechen fighters were among those killed, police said.
CNN's Thomas Evans contributed to this report.