Senior Pakistan Army commander escapes assassination bid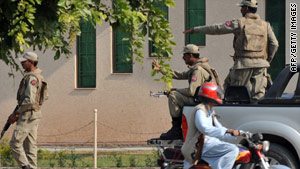 Pakistani soldiers guard the site of the attack.
STORY HIGHLIGHTS
Medical official confirms officer and soldier were attacked by gunmen on a motorcycle
Last month gunmen killed brigadier on home leave as commander of Pakistan's peacekeepers in Sudan
Militants have stepped up their attacks against military targets over the past six weeks
ISLAMABAD, Pakistan (CNN) -- A senior Pakistani military officer and a soldier were wounded by gunmen in an apparent assassination attempt in the nation's capital, police said Friday.
The two were hospitalized in stable condition, said Dr. Mohammed Khawaja, a spokesman of the Pakistan Institute of Medical Sciences, who confirmed that they were being treated at the hospital.
"They [the gunmen] were on motorcycle, like the previous two incidents," said a senior police officer, speaking on condition of anonymity because he is not authorized to talk to the media.
He was referring to two other attacks against army brigadiers in Islamabad within the past two-and-a-half weeks.
In both cases, gunmen on a motorcycle sprayed bullets at vehicles of army officers as they were leaving their homes.

Video: Pakistan's thin blue line
On October 22, gunmen killed a brigadier who was visiting home from his post as commander of Pakistan's contingent of peacekeepers in Sudan. A soldier was also killed in the attack.
Five days after the attack, another brigadier narrowly escaped injury when gunmen on a motorcycle shot at his car as he was driving out of his house with his mother on the way to the bank.
Militants have stepped up their attacks against military targets over the past six weeks, as the Pakistani army has pressed its offensive against the Taliban stronghold in South Waziristan, in mountains along the Afghan border.
Last month, militants launched an assault on the headquarters of the Pakistani military in Rawalpindi, where they took hostages and fought a 22-hour gunbattle against security forces before finally being overwhelmed.
On Monday, a suicide bomber killed at least 25 people outside a bank in Rawalpindi on what was pay-day for the army. The bomber self-detonated as government workers and soldiers were lining up for their monthly salaries and pensions.
A doctor said 17 of the 18 dead and wounded victims treated at one Rawalpindi hospital were members of security forces.
FOLLOW THIS TOPIC