NATO probes possible Afghan 'friendly fire' deaths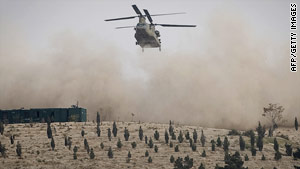 The search for the two missing U.S. soldiers is continuing in Badghis province.
STORY HIGHLIGHTS
Afghan Defense Ministry: Seven Afghan security forces died, Afghan and international forces hurt
Occurred in Badghis province in western Afghanistan which borders Turkmenistan
NATO forces launched a search in the region for two American paratroopers who went missing Wednesday
KABUL, Afghanistan (CNN) -- NATO forces in Afghanistan are investigating a report that a NATO airstrike killed Afghan security forces in a region rife with arms smuggling and narcotics trafficking.
Afghanistan's Defense Ministry issued a statement saying seven Afghan security forces died and Afghan and international forces were injured in the Saturday incident, which occurred in Badghis province -- a swath of territory in western Afghanistan bordering Turkmenistan.
This is where NATO forces have launched a search for two American paratroopers who went missing Wednesday during a "routine resupply mission."
The pair -- from the 4th Brigade Combat Team, 82nd Airborne Division -- are operating under NATO's International Security Assistance Force.

Video: Friendly fire probe
The service members disappeared near Afghanistan's border with Turkmenistan, in the Badghis town of Bala Morghab, said Sayed Ahmad Sami, the provincial police chief.
ISAF and Afghan security forces personnel casualties were reported on Friday in several incidents during the search operation, a statement from ISAF said.
Four Afghan soldiers, three police and an Afghan civilian working with the army were killed. Fifteen Afghan soldiers, two Afghan police, five U.S. service members under ISAF, and a civilian working with Afghan troops were wounded, the statement said.
In another incident in Badghis nearly two weeks ago, seven U.S. service members and three U.S. Drug Enforcement Administration officers were killed in a helicopter crash in the province.
Low visibility was cited as the cause of the crash.