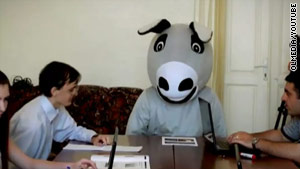 Clip taken from YouTube shows the bloggers interviewing a donkey in their government satire.
STORY HIGHLIGHTS
Adnan Hadjizadeh 26, and Emin Milli, 30, were accused of hooliganism after an altercation in a cafe
Witnesses said 2 strangers approached them, demanding they stop their discussion and attacked them
Hadjizadeh and Milli satirized Azerbaijan's government in a popular YouTube video shortly before they were arrested
In the video they stage a press conference and interviewed a man dressed in a donkey suit
(CNN) -- Two satirical bloggers who staged an interview with a donkey were sent to prison in Azerbaijan Wednesday, following a two-month trial for assault, the father of one told CNN.
Adnan Hadjizadeh 26, and Emin Milli, 30, were accused of hooliganism after an altercation in a cafe in July.
Hadjizadeh was imprisoned for two years and Milli was sentenced to two and a half, Hadjizadeh's father, Hikmet, told CNN by phone from Baku, the capital of the oil-rich former Soviet republic.
Azerbaijani authorities did not respond to repeated CNN questions about the case.
"Emin Milli and Adnan Hadjizadeh were physically attacked, apparently unprovoked, in a Baku restaurant. Witnesses reported that the two had been discussing their youth movement activities when two strangers approached them, demanded that they stop discussing such matters, and attacked them," Human Rights Watch and other organizations wrote in an open letter to Azerbaijani President Ilham Aliyev when the trial opened in September.
"Milli and Hadjizadeh were later charged with 'hooliganism,' under Article 221 of the Azerbaijani Criminal Code, and detained. Their alleged attackers were set free," the groups wrote, urging they be given a fair trial.
Hikmet Hadjizadeh believes their real crime was "fighting for democracy, fighting for European values" in the authoritarian nation sandwiched by Russia, Turkey and Iran.
Hadjizadeh and Milli satirized Azerbaijan's government in a popular YouTube video shortly before they were arrested.
"There was a report by the government statistics bureau that the government bought two donkeys from Germany" for an exorbitant sum, Hikmet Hadjizadeh said. "Of course this is money-laundering."
So Hadjizadeh and Milli staged a press conference and interviewed a donkey, he said.
In the video, which is posted on YouTube, journalists ask a man in a donkey suit if he had a good trip from Germany (he complains his luggage was stolen, but says it probably would not have been if the thieves knew he was a donkey) and if he would like to be reincarnated as a donkey again after his death (yes, if he was going to live in Azerbaijan "where donkeys are truly loved").
But the questioning then gets more pointed, as a journalist asks the donkey why he is so much more expensive than local donkeys.
"I'm better than them," the donkey replies confidently. "I have a European education, I know three languages: German, English, and, as you can see, Azeri. And I can play the violin."
The donkey goes on to give an impressive demonstration of his musical talent before he, too, implicitly criticizes the government of Azerbaijan for restrictions on non-governmental organizations.
"There will be someone to protect donkey civil rights. But who will protect human civil rights?" the filmmakers ask on screen as the video ends.
The U.S. State Department criticized the verdict as "a step backwards for Azerbaijan's progress towards democratic reform.
"The non-transparent investigation, closed court hearings, disproportionate legal charges, and failure to detain and charge the assailants have raised concerns about the independence of the police and the judiciary as well as about restrictions on freedom of expression in Azerbaijan," spokesman Ian Kelly said in a written statement.
Human Rights Watch said the bloggers did not have a fair trial.
"This is going to send some very chilling messages to those who are critical of the government," said the group's Caucasus researcher Giorgi Gogia.
"They were not part of the conventional media, they were civil activists in the blogosphere," he said by phone from neighboring Georgia, where he is based.
"It is particularly alarming that after certain media outlets have been closed down, even the blogosphere is not a forum where free views can be expressed," he said.
Azerbaijanis are due to elect a new parliament next year, but there is little chance the voting will be fair, Gogia said.
"It's hard to talk about competitive elections when there is no free media," he said.
Hadjizadeh and Milli will appeal their conviction, Hadjizadeh's father said. They remain in prison pending the appeal, he added.