Investigators quiz Musharraf over Bhutto assassination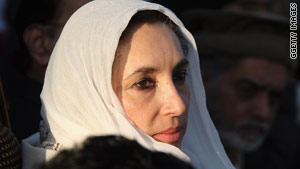 Benazir Bhutto at a campaign rally in Rawalpindi minutes before she was assassinated on December 27, 2007.
STORY HIGHLIGHTS
U.N. arrived in Pakistan in July to look into the Bhutto assassination
Commission had "frank open and cordial conversation" with Musharraf"
Musharraf government, CIA said 2007 killing was orchestrated by Pakistani Taliban
Nationwide polls found most Pakistanis believe Musharraf government was complicit
ISLAMABAD, Pakistan (CNN) -- A United Nations commission investigating the assassination of former Prime Minister Benazir Bhutto said Tuesday that it met with Pervez Musharraf, the military ruler who was in power at the time.
"The Commission of Inquiry had a frank, open and cordial conversation with former President Musharraf, having been able to pose to him many queries on issues central to its mandate," the group said in a statement.
The statement did not say where the team met with Musharraf.
His spokesman, Nasim Ashraf, told Pakistan's English-language newspaper, Dawn, that the meeting took place in Philadelphia, Pennsylvania, on October 27.
"While I met the team, I strongly oppose any international probe into Pakistan's domestic affairs," Musharraf said in a statement, carried by Dawn.
The U.N. commission arrived in Pakistan in July to look into the circumstances surrounding the assassination of Bhutto.
The former prime minister returned home in 2007 from a eight-year self-imposed exile to participate in the country's general elections.
She was killed at a rally in the city of Rawalpindi on December 27 when a bomber blew himself up near her limousine. Videotape showed a gunman firing toward her vehicle as she left the rally.
Musharraf's government and the CIA contended the killing was orchestrated by Baitullah Mehsud, a leader of the Pakistani Taliban with ties to al Qaeda.
But nationwide polls found that a majority of Pakistanis believe Musharraf's government was complicit in the assassination.
Following her death, Bhutto's supporters took to the streets. The ensuing violence caused damage of more than $200 million (12 billion Pakistani rupees) and killed at least 58 people, government officials said.
Her party, the Pakistan People's Party, went on to win the most number of seats in elections held the following year.
Musharraf resigned. And Bhutto's husband, Asif Ali Zardari, became president.
Zardari asked the United Nations to look into his wife's death to try and reconcile inconsistencies of how she died and who was behind the attack.
This, despite an inquiry by London's Scotland Yard ruling that Bhutto died from the blast and not gunfire.
The U.N. commission said in its statement that it has met with "dozens" of people in the course of its fact-finding mandate.
It is expected to submit a report to U.N. Secretary-General Ban Ki-moon by year's end.