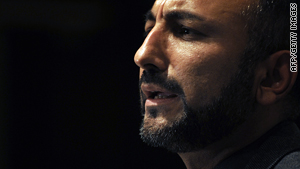 Afghanistan's Interior Minister Hanif Atmar says the government is committed to fighting corruption.
STORY HIGHLIGHTS
Afghan Interior Minister Hanif Atmar says war is winnable, corruption will be fought
He says Karzai is making fighting corruption a top priority over next five years
Ex-presidential candidate Ashraf Ghani says government has become a "looting machine"
Ghani says for Karzai to deal with corrupt officials, kinship and ruling are not compatible
(CNN) -- The war in Afghanistan is winnable, and corruption will be fought, Interior Minister Hanif Atmar told CNN's Christiane Amanpour on Thursday, as President Hamid Karzai was being sworn in for a second five-year term in Kabul.
Atmar said security has improved in some provinces and deteriorated in others, but he's confident the Taliban can be defeated. "We have to show the resolve, the determination, and the ability to make decisions quickly," he said.
He said criticism from Afghanistan's international partners is unhelpful.
"We accept part of the blame, but there are also issues that our international friends must also take responsibility for -- the blame game is not going to help."
His remarks came as U.S. President Barack Obama moved closer to announcing a decision on whether to send as many as 40,000 additional American troops to Afghanistan. The president has been consulting with his top national security advisers for weeks now, a process that has been complicated by the disputed presidential election in Afghanistan and reports of rampant cronyism and graft there.
Atmar said Karzai is making the fight against corruption a top priority over the next five years. He said there will be a major crimes task force, a general prosecutor, and a special anti-corruption court.
"The government has always been committed. The question has not been the deficit of willpower, the question has always been the resources and an agreed program and priorities," he added.

Video: Afghan govt. a 'looting machine'

Video: Karzai: We need dialogue

Video: Karzai sworn in to 2nd term

Video: Will Karzai be able to deliver?
Atmar's assertion was strongly disputed by former presidential candidate and finance minister Ashraf Ghani. He said the government has become a "looting machine" in which 2,000 people are siphoning off cash.
Ghani said the new government must appoint people of integrity and judgment.
Of those who are corrupt, Ghani said, "Without government positions they are nothing. As long as they are in control of the government, they will turn it into a force that is a threat to both the international security forces and to the Afghan people."
Asked if Karzai would get rid of corrupt officials, Ghani said, "If he doesn't, then he's going to fail the test of leadership. Kinship and ruling are not compatible.
"In our history, those who have built states have to separate themselves from their kin. And unless one meets that test, one cannot rise to become a statesman."
Ghani also strongly criticized the department of Interior Minister Atmar. He said Atmar is a competent man, "but his ministry is among the most corrupt in the country. The police force is a scandal. It has perpetrated immense crime."
The former presidential candidate remained optimistic about the future, though.
"I think it's very easy to talk about the place unseen and a people unmet. Most people who come to Afghanistan, Americans in particular, I have had the privilege of hearing them say they've left their heart in Afghanistan."
Ghani also praised the role of international forces in Afghanistan.
"There's still a consensus in this society that this is the first army in 5,000 years that has come here not to occupy our land, but to become a force for stability and eventually of prosperity."
FOLLOW THIS TOPIC