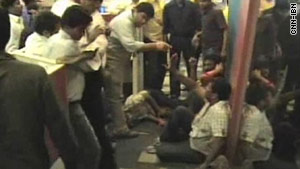 Police say the suspects are members of the regional Shiv Sena party.
STORY HIGHLIGHTS
Band of right-wing activists ransacks Indian television station
Party says attack was retaliation against channel's "bias" against their leader
Police have so far arrested seven people
New Delhi, India (CNN) -- A band of right-wing activists ransacked an Indian television station in the country's financial hub of Mumbai in an assault their party said was an act of retaliation against the channel's "bias" against their veteran leader.
Political commentators called the attack on the IBN Lokmat station a manifestation of competitive militant politics in Maharashtra state, home to Mumbai.
Police have so far arrested seven people. About 15 to 20 people more are expected to be taken into custody, said Rajkumar Vhatkar, a deputy commissioner of police in the city.
Those held have been charged with assault, rioting and criminal trespass, among other counts, he said.
IBN Lokmat is a sister station to CNN-IBN, also in India; CNN-IBN was not targeted.
Police said the suspects are members of the regional Shiv Sena party. The group, which fights federal and state elections, confirmed that they are.
"We are not denying it. They were angry," said Sanjay Raut, a federal lawmaker from Shiv Sena. He accused the channel of insulting his party head, Bal Thackeray, a fiery Maharashtrian leader.
Shiv Sena and its breakaway Maharashtra Navnirman Sena (MNS), headed by Thackeray's nephew, claim to be champions of Maharashtrian issues, especially economic issues, as hundreds of thousands of migrants from a number of impoverished states are lured to Mumbai for jobs.
"Earlier, it was only the Shiv Sena. Now it faces the MNS too. It's a competition to prove who's more militant," said K.G. Suresh, an observer of India's right-wing politics.
"This brand of politics is flourishing in Mumbai for more than 40 years now. It's a paradox in India's democracy that these parties have always endorsed attacks at those who do not subscribe to their parochial, medieval thoughts. Targets have been Bollywood films, Valentine's Day celebrations, non-Maharashtrians, and non-Hindus."
Madeline Earp, Asia research associate for the Committee to Protect Journalists, said Hindu nationalists, and Shiv Sena in particular, have indeed been responsible for previous attacks, and such violence is part of a broader trend of impunity for attacks on journalists in India, including killings.
She said India features on the committee's Impunity Index -- a list of countries where journalist murders are consistently unprosecuted.
Earp said "it's good to see local police are making arrests following this attack, because aggressive investigation and prosecution are desperately needed to protect Indian journalists from incidents like this one. "
"Generally speaking," she said, "I would think this attack looks extreme. I wouldn't say it's unusual. I think there's actually a fairly consistent rate of low-level attacks throughout India" over recent decades.
"This year and last year -- I can think of at least two or three of this magnitude," she said. "It's not concentrated in a particular area. I think there is a certain degree of lawlessness in India which can involve newspapers or the media, especially over issues that are really tense in certain regions.
"For example, these occur in states that suffer from communal violence or ethnic tension -- they'll be attacks on media offices or vehicles. These are places where feelings run high. I would say that's not unusual -- though we are not always aware of it" outside India.
CNN's Joe Sterling contributed to this report.