Suspected drone kills 8 militants in Pakistan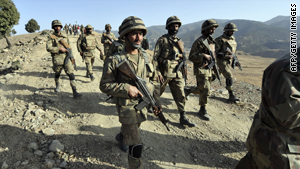 Pakistani troops patrol in Ladha, a town in the troubled tribal region of South Waziristan on Tuesday.
STORY HIGHLIGHTS
Suspected drone fires two missiles at house in northwestern Pakistan, say officials
Eight militants killed and several others wounded
The target, a militant's house in Machi Khel, is near Mir Ali in North Waziristan
(CNN) -- A suspected drone fired two missiles at a house in northwestern Pakistan on Friday morning, killing eight militants and wounding several others, officials said.
The target, a militant's house in Machi Khel, is near Mir Ali in North Waziristan, according to local and intelligence officials.
Machi Khel has been the scene of clashes between Taliban militants and the Pakistani military.
As attacks in the country have escalated in recent days, so has the battle between troops and militants.
A suicide bomber struck Thursday morning outside the gates of a court compound in Peshawar, killing at least 19 people and wounding 50. Four police officers were among the dead, officials said.
The attack was the seventh deadly explosion in and around Peshawar in less than two weeks.
A wave of suicide bombers has targeted police checkpoints, police stations and the provincial headquarters of Pakistan's spy agency this month, killing dozens of people.
Taliban commanders have claimed responsibility for several of the blasts and have vowed to intensify attacks against Pakistani security forces.
The Taliban appears to be retaliating for an ongoing Pakistani military offensive launched last month against militant strongholds in the mountainous region of South Waziristan, along Pakistan's border with Afghanistan.
As Pakistani troops and militants fight fierce battles in South Waziristan, drone attacks against suspected Taliban targets continue.
An attack in North Waziristan late Wednesday killed four people and wounded six others, a Pakistani intelligence official and a local official said.
The U.S. military routinely offers no comment on reported drone attacks. However, it is the only country operating in the region known to have the ability to launch missiles from drones, which are controlled remotely.