Sri Lanka agrees to release 130,000 Tamils displaced by war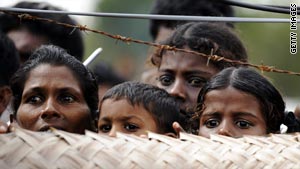 Sri Lankan war-displaced civilians peer from behind barbed wire fences surrounding their internment camp in Vavuniya
STORY HIGHLIGHTS
More than 300,000 displaced by fighting were placed in internment camp
Remaining 130,000 will be free to leave on December 1, official says
United Nations says ethnic minority Tamils held by force in inhumane conditions
Tamil vote likely to play important role in upcoming election
Colombo, Sri Lanka (CNN) -- The Sri Lankan government said Saturday it will lift restrictions on thousands of war-displaced ethnic Tamils still residing in squalid internment camps.
More than 300,000 people displaced by the fighting between the government and Tamil Tiger rebels were placed in a sprawling, heavily guarded camp called Menik Farm near the northern town of Vavuniya. Many have already been released.
The remaining 130,000 will be free to leave on December 1, said Basil Rajapaksa, the head of the Tamil resettlement program and the brother of President Mahinda Rajapaksa.
He said the government will resettle the refugees by the end of January. Many are from the Wanni region, which was heavily mined during the war and is still being cleared.
Humanitarian groups, including the United Nations, have complained that the ethnic minority Tamils, who form about 13 percent of Sri Lanka's 20.5 million people, are being held by force in the Menik Farm camp.
They have reported conditions are overcrowded and inhumane and suggested that the government's treatment of the Tamil people amounts to retribution. Some residents are known to live in tents no larger than 8 square feet, sheltered from the elements only by plastic sheeting.
The government's position was that tight controls were needed and that camp residents were being screened to ensure that rebels were not hiding among them.
The government's announcement comes just two days after John Holmes, the top U.N. humanitarian official, called for the release of the remaining refugees.
Holmes said the returnees he met during the course of his three-day visit were pleased to be able to go home. He underscored the need for full freedom of movement for those who remained at Menik Farm.
The move also comes a day before the president is scheduled to issue a proclamation calling for new elections. The votes of the Tamil minority are sure to play an important role.
In 2005, Tamil rebels forbade voters in their areas to cast ballots in an election. Mahinda Rajapaksa won the election by a slender margin.
The Sri Lankan military defeated the rebels earlier this year, ending a conflict that began in 1983. Formally known as the Liberation Tigers of Tamil Eelam, the rebels were waging war for an independent state for the Tamil population.
As many as 70,000 people were killed in the conflict.
Journalist Iqbal Athas contributed to this report.