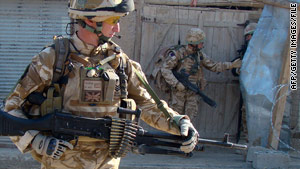 British soldiers with the NATO-led force patrol Afghanistan's Helmand province last week.
STORY HIGHLIGHTS
U.S., British, Afghan troops team up to clear militants in Helmand province
About a dozen militants killed in Cobra's Anger operation, Marines say
There have been no coalition casualties, Marines say
U.S. and NATO escalating fight against Taliban and al Qaeda in region
(CNN) -- U.S. and allied troops have seized nine weapons caches, killed about a dozen militants and captured several others since an offensive began last week in southern Afghanistan, the U.S. Marines said Monday.
Around 900 U.S. and British troops and more than 150 Afghan soldiers and police continued to try to clear militants Monday from the Now Zad Valley of northern Helmand province in an operation called Khareh Cobra, or Cobra's Anger.
U.S. and allied forces have found homemade explosives, rifles, hand grenades, machine guns, ammunition, rocket-propelled grenades, mortars and "several hundred components" used to make roadside bombs, the Marines said Monday. The weapons and ammunition were destroyed, a statement said.
The Marines reported sporadic resistance and said about a dozen militants were killed and several others captured. There have been no coalition casualties, the Marines said.
The operation began as the United States and NATO allies announced plans to escalate the fight against the Taliban and al Qaeda in Afghanistan and along its border with Pakistan.
President Obama has pledged 30,000 more troops to complement the 68,000 now there, while the NATO command said member nations will send about 7,000 more troops.

Video: Security situation in Afghanistan

Video: Commander's Afghan strategy
Helmand province -- where British troops have been based -- has been a militant stronghold and a poppy-growing region that helps fund the insurgency. The province supplies 90 percent of the world's opium, which is used in the production of heroin.
Helicopter and ground operations aimed at taking hold of "key terrain" began early Friday, said Maj. William Pelletier.
Now Zad had been the second-largest city in the province, but years of fighting drove residents away, the Marines said.
The valley is "a major through-route" for transporting fighters and munitions from east to west and north to south, said Pelletier, who's at at Camp Leatherneck in Helmand.
The Marines said insurgents have mined the region, and troops intend to provide enough security for the Afghan government and nongovernmental organizations to begin clearing explosives so they can repopulate the town. Because the area is heavily mined and laden with roadside bombs, Marines are using mine rollers to clear roads, Pelletier said.
The U.S. troops include Marines and sailors from the Marine Expeditionary Brigade-Afghanistan. The British forces are from Task Force Helmand.
Danish troops also were involved. They "neutralized an enemy machine gun bunker and an enemy mortar position," the Marines said Monday.
Earlier this year, U.S. Marines launched a major operation against Taliban fighters in the southern part of Helmand province called Operation Khanjar, or Strike of the Sword, and they helped Afghan forces conduct security operations for the presidential elections in August.
Operation Khanjar took place not long after U.S. Gen. Stanley McChrystal took over in June as the allied commander in Afghanistan.
CNN's Frederik Pleitgen and Joe Sterling contributed to this report.