STORY HIGHLIGHTS
CNN's Dan Rivers revisits Banda Aceh, Indonesia, to visit a survivor of the 2004 Asian tsunami
Fitrie Ani, who was three months pregnant, lost her husband and nine other relatives
Five years on the neighborhood has been rebuilt along with roads, bridges and mosques
On CNN International: "Tsunami 5" (all times GMT)
December 26: 1430, 2030
December 27: 0930
December 28: 1330, 1730
Banda Aceh, Indonesia (CNN) -- Fitrie Ani was three months pregnant when she heard neighbors in her corner of Banda Aceh screaming: "The sea is rising! The sea is rising!"
A wall of water twice as high as a house engulfed communities like Ani's around the Indian Ocean, from Indonesia to East Africa, the day after Christmas 2004, leaving some 200,000 people dead or missing in 12 countries in a tsunami that the U.S. Geological Survey says caused more casualties than any other in recorded history.
I first met Ani in the chaotic aftermath in Banda Aceh and watched as she returned to the ruins of her home for the first time since the catastrophe.
It was a pitiful scene. Her home, and every building around it, had been ravaged down to their foundations by the roaring waves.
Ani sifted through the rubble, lifting a torn garment that belonged to her grandmother. The dress had been snagged on a piece of masonry, but the elderly lady it belonged to wasn't able to hold on.
Ani's grandmother, husband and eight other relatives were sucked out to sea. None of their bodies were ever identified.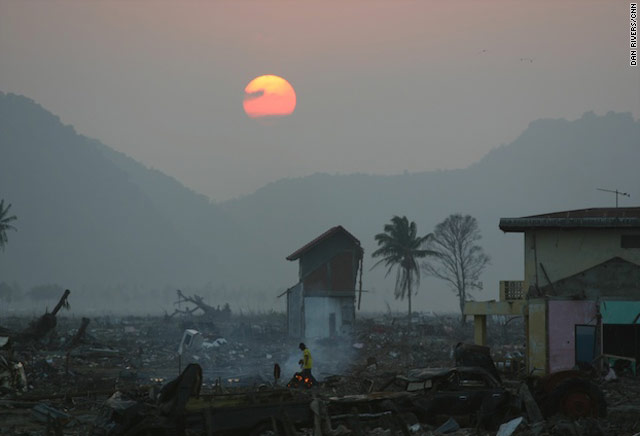 Reporter's slideshow: Back to Aceh

Video: Tsunami survivor rebuilds life

Video: Helping tsunami kids

Video: Incredible tale of survival
Ani was also unable to fight the swirling vortex of water. She was carried on the currents far out to sea, where she drifted semi-conscious for more than ten hours.
Did you survive the tsunami? Did you lose a loved one? Share your thoughts on the 5th anniversary on CNN iReport
Fishermen in a passing boat saved her life when they plucked her out of water filled with debris.
Five years on, her neighborhood has been rebuilt, with homes made of wood and concrete, but little inside. The roads, bridges and mosques are better than you would find in an average Indonesian town.
The baby she was carrying in her womb the last time we met is now a healthy four-and-a-half-year-old boy named Zahri. He is a child of the tsunami -- carried on the killer waves that spared him and his mother but took so many others.
"People were surprised seeing me pregnant without any wound," said Ani, who was convinced her baby would be affected.
"I swallowed a lot of that black, warm and stinky seawater. I thought the baby might get hurt from the water. When I checked, the baby was fine. I don't know how; it's God's will."
She said after his birth, others asked her: "How come this tsunami baby is perfectly fine?"
Ani's new house is not perfect: It is little more than a wooden shack built with aid money. She has remarried and has another boy with her second husband, who is a soldier.
Like thousands of people here and others in countries where the tsunami struck, they have tried to rebuild their shattered lives as best they can.
"I feel sad when I remember what happened to me, it's painful," she said. "My kid was born without a father, other kids have both their parents. I was all alone. I didn't have a house, I went back to the refugee camp instead. I didn't get any help, no milk, no diaper."
But Ani said she also felt blessed.
"I was lucky to survive, people said that this baby had brought me luck."
FOLLOW THIS TOPIC