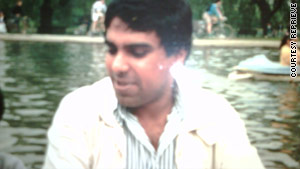 Akmal Shaikh was arrested with four kilograms of heroin at Urumqi Airport, but defenders claim he was mentally ill.
STORY HIGHLIGHTS
British man Akmal Shaikh sentenced to death for heroin trafficking
Campaigners argue Shaikh was suffering from bipolar disorder
China: "This case has always been handled according to law"
British government has called for China to show clemency in the case
Beijing, China (CNN) -- China will go ahead with the execution of a British man convicted of trafficking heroin, despite pressure from the British government and human rights groups for clemency, the Chinese foreign ministry said Tuesday.
"This case has always been handled according to law. During the trial, the defendant has been guaranteed his legal rights," Jiang Yu, spokeswoman for China's Ministry of Foreign Affairs, said Tuesday. "Everyone knows that international drug smuggling is a grave crime."
Akmal Shaikh, 53, was convicted of carrying up to four kilograms (nine pounds) of heroin at the Urumqi Airport in September 2007. His final appeal -- to the People's Supreme Court -- was rejected Monday and he was immediately scheduled to be executed on December 29.
He would be the first European Union citizen executed in China in 50 years, the campaign group Reprieve said.
"We are alarmed and deeply concerned at this news," a statement from the British Foreign Office said. "We will be using the next few days to renew and intensify our appeal to the Chinese authorities for clemency."
Reprieve claims Shaikh may be suffering from bipolar disorder, a severe mental condition characterized by delusional and manic behavior. The group claims Chinese authorities have refused requests for Shaikh to be examined by a doctor and for his mental condition to be taken into account during his trial and sentencing.
"We deeply regret that mental health concerns had no bearing on the final judgment despite requests by Mr. Shaikh's defense lawyer and repeated calls by the Prime Minister, Ministers, members of the Opposition, as well as European Union," the Foreign Office said.
A spokesman for China's Ministry of Foreign Affairs told CNN in October there was no evidence of mental illness.
"The British Embassy and a British organization proposed to have a psychological exam but could not offer any proof of mental illness," the spokesman said. "The defendant himself said that his family does not have a history of mental illness."
Shaikh claimed he was given a suitcase to carry by another man who had duped him into believing he was traveling to China to become a nightclub performer, and he said he was unaware of the drugs concealed inside.
Reprieve campaigners have revealed details of Shaikh's erratic lifestyle prior to his arrest -- including traveling to Poland to start an airline and then on to Central Asia to become a pop star.
Shaikh's brother, Akbar Shaikh, said his family had lost touch with Akmal several years ago when he left London, where he had been running taxi firm, and moved to Poland with plans to set up an airline -- despite lacking any money to do so.
"I'd like to appeal to the Chinese authorities to show compassion towards my brother because I don't think he's clearly of sound mind," Akbar Shaikh said in October.
"He is a kind person who got involved in some bad habits ever since he went to Poland. He always had more or less acted irrationally in his mind, the way he talked to the rest of his family. One minute he could be very charming, the next he could fly off the handle."
While living in Poland, Shaikh was approached by a man who helped him write a song which Shaikh believed would bring world peace, according to Reprieve.
The man said he knew people in Kyrgyzstan who could help him become a pop star. Once there, Shaikh was introduced to another man called Okole who told him he owned a nightclub in China where they would launch his singing career.
The pair traveled together to Tajikistan, staying in a five-star hotel.
Okole then told Shaikh he would have to travel onto China himself because there was only one seat available on the plane -- and gave him the suitcase to carry, according to Reprieve.
A forensic psychologist said he strongly suspected Shaikh is suffering from a severe mental disorder.
Dr. Peter Schaapveld traveled to Urumqi earlier this year for Shaikh's appeal hearing but was unable to meet Shaikh or attend the appeal. He said British consular staff told him court officials had been "bemused and amused" by Shaikh's "incoherent" testimony.
Schaapveld also examined hundreds of pages of rambling e-mails sent by Shaikh to the British embassy in Poland and various public figures including then-U.S. President George W. Bush and singer Paul McCartney.
He said the evidence "very clearly" suggested Shaikh was "probably suffering from bipolar disorder and may also have an additional delusional psychosis."