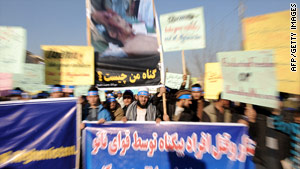 Afghans demonstrate Wednesday against a U.S. operation that the Afghan government says killed civilians.
STORY HIGHLIGHTS
NEW: NATO force welcomes joint probe into whether dead were civilians or militants
NEW: ISAF says raid targeted militants, insurgents were shot as they attacked troops
Afghan panel says weekend coalition operation killed 10 civilians, mainly children
U.S. military says photos prove the dead were militants
Kabul, Afghanistan (CNN) -- NATO's International Security Assistance Force called Wednesday for a joint investigation into a weekend U.S.-led operation, after the Afghan government alleged that 10 civilians were killed.
ISAF said the Saturday operation, in the village of Ghazi Khan in Kunar Province, targeted a known insurgent group that ISAF said is "responsible for a series of violent attacks in the area."
It said, "As the joint assault force entered the village, they came under fire from several buildings and in returning fire killed nine individuals. Several assault rifles, ammunition, and ammonium nitrate used in bomb-making were discovered."
Earlier Wednesday, an Afghan presidential team said that it had confirmed 10 deaths -- all of them civilians and eight of them students -- from the operation.
Asadullah Wafa, a senior advisor to President Hamid Karzai, said he talked to village elders, family members of the victims and the principal of a school in the area.
The victims included eight middle school and high school students, he said.
Wafa also said coalition forces did not coordinate the raid with provincial authorities.
ISAF said there is "no direct evidence to substantiate" the Afghan government's assertion.
However, it said, "ISAF has requested and welcomes an immediate joint investigation to reach an impartial and accurate determination of the events that occurred."
A U.S. military official told CNN on Tuesday that the dead were nine members of a network who had been tracked for a while for producing roadside bombs.
The official, who spoke on condition of anonymity, also said the raid was a joint operation with Afghan and U.S. forces.
The U.S. military said Tuesday that it had intelligence photos proving the dead were militants.
"We embrace the responsibility to conduct our operations with the strictest degree of constraint to avoid civilian casualties," ISAF said.
"If we fail to meet this highest standard to which we subject ourselves, we will always look within to improve our capacity to avert unintended consequences in the future."
Civilian casualties during U.S. airstrikes against Taliban targets have strained the relationship between Afghanistan and the United States.
In the first 10 months of 2009, 2,038 civilians were killed in the Afghan conflict, the United Nations said Tuesday. Of those, 70 percent were killed in insurgent attacks, and 20 percent in coalition- and Afghan army-led ones, it said.
CNN's Atia Abawi and journalist Matiullah Mati contributed to this report.