(CNN) -- Russian energy giant Gazprom, in the midst of a standoff with Ukraine over payments for gas, has filed a lawsuit to stop what it claims is illegal siphoning.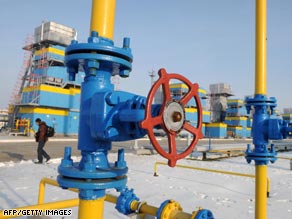 A gas-compressor and gas-holder station in Mryn, Ukraine. Gazprom has stopped supplying the country.
"Gazprom has taken the decision to file a lawsuit with the Stockholm international arbitration court to force (state-run gas company) Naftogaz Ukrainy to secure unimpeded transit of Russian gas to Europe across Ukraine," Gazprom management committee chairman Alexey Miller said in a statement on Gazprom's Web site.
Gazprom shut off Ukraine's gas supply on Thursday after saying it owed $2 billion in missed payments. Ukraine denies owing the money and is currently meeting its domestic needs with supplies from storage facilities.
Gazprom's natural gas supply to Europe runs through Ukraine -- leading to the siphoning claims.
Gazprom has reassured Europe that its natural gas supply, which runs through Ukraine, will not be affected by the dispute with Kiev. However, analysts are concerned that if the two sides do not reach a new agreement there will be a supply cut in the next two weeks.
Poland reported a drop in its supply on Saturday.
In a statement on its own Web site Saturday, Naftogaz Chairman Oleg Dubyna said the price Russia is asking Ukraine for natural gas is more than double what was agreed upon in October.
"Such a price for natural gas, as for Ukrainian consumers, is an unprecedented economic pressure," Dubyna said. "It blocks the work of not only industrial and communal enterprises, but also the operation of the gas transport system and in the end of the day can lead to ecological and humanitarian catastrophe."
Alexander Medvedev, Gazprom deputy chairman, has publicly accused Ukraine of siphoning gas.
Medvedev said the Ukraine had "declared, rather cynically, that it take gas from the export pipe ... Balkan states have already started to suffer from the moves of the Ukrainian side."
Meanwhile, Gazprom spokesman Sergey Kupriyanov said Naftogaz Ukrainy, responsible for Ukraine's gas payments, may have paid the amount it owed but it would not arrive until January 11 because of the holiday season.
"This will settle the overdue penalties and part of the debt for gas supplies," Kupriyanov said. "The remaining debt for gas will be in this case $614 million."

A Ukrainian delegation was in Europe on Saturday meeting leaders to seek help to end the crisis.
Russia is the world's biggest producer of natural gas and supplies Europe with more than 40 percent of its imports -- mainly via the pipelines through Ukraine.
E-mail to a friend

All About OAO Gazprom • Ukraine • Russia