LONDON, England (CNN) -- Russian energy giant Gazprom cut off Ukraine's gas supply on New Year's Day and is yet to switch it back on.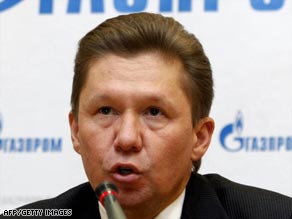 Gazprom chief executive Alexey Miller has accused Ukraine of siphoning gas meant for Europe.
Both sides have so far refused to budge and have made counter claims about who is to blame. Now other European countries are worried what impact the dispute will have on them.
What is the problem?
That depends on your viewpoint.
Gazprom claimed Ukraine's gas company -- Naftogaz Ukrainy -- owed it more than $2 billion in missed payments and fines. However, Naftogaz says it has paid the bill and Gazprom is trying to force it to accept a new price for gas which it cannot afford.
Gazprom has since said that Naftogaz owes it about $600 million, which the Ukrainian company rejects.
Traditionally, Ukraine has received gas from Russia at a much discounted price -- currently about $179.50 per 1,000 cubic meters -- but Gazprom wanted to up that to $250 per 1,000 cubic meters. When Ukraine rejected that price, Gazprom threatened to charge the full market rate -- $418 dollars per 1,000 cubic meter.
It is the second time Gazprom has cut off Ukraine's gas supply, doing the same -- but only for a day -- at new year in 2006.
What has been the impact to date? Will the rest of Europe suffer?
Ukraine says it is still supplying domestic customers from storage facilities but things are expected to get much more difficult for the country if supplies are not reconnected within the next few weeks.
Don't Miss
Romania, Hungary, Poland and Bulgaria have already reported significant drops in pipe pressure -- Gazprom's gas is carried to Europe through Ukraine -- but their domestic customers are yet to suffer any supply problems. They have started to store more gas and look for alternate supplies.
However, analysts across Europe are concerned about what will happen if the dispute drags on. Russia supplies more than 40 percent of Europe's gas imports.
Ukraine has promised to keep the supply pipes open. However, on a practical level, the pipes require a certain amount of pressure to keep running.
Gazprom has said it is looking for alternate routes to supply Europe, but there is no straightforward solution.
What accusations have been made?
Simply, Ukraine says it has paid and that Gazprom is holding it to ransom.
Gazprom says it has yet to see the money and that no one in Kiev is taking its calls.
Gazprom says Naftogaz has been siphoning off supplies meant for Europe and that it is taking them to court. It has also urged other European countries to sue.
Again, Naftogaz rejects the claim and says any full-on pressure is due to Gazprom's reducing supplies.
Is the end in sight?
Both sides have been lobbying senior European diplomats in an effort to reach a negotiated settlement. Ukraine sent a delegation to Europe over the weekend and EU officials have visited Kiev. Russian Prime Minister Vladamir Putin has also been meeting with Gazprom chief executive Alexey Miller.
Gazprom has said it wants to talk to Ukrainian officials but no one will take their calls.
Are politics involved?
It's hard to separate the standoff from the wider political picture.
Gazprom is essentially controlled by the Kremlin and has increasingly been viewed as a useful tool on the international stage by Putin, who has recently called for a gas cartel along the same lines as OPEC.
Gazprom's spectacular success and high gas prices have helped the Kremlin rebuild Russia's foreign reserves and help make it stronger.
Moreover, many analysts believe Putin views Ukraine -- where Russia has a large naval base -- as belonging to Moscow's sphere of influence. These beliefs were heightened after Russia's war with Georgia.
Ukraine's desire to join NATO and the EU at some stage have further irked Putin, though such calls have been more subdued of late.
In addition Ukraine's political system has been paralysed by infighting and bickering, with once allies President Viktor Yushchenko and Prime Minister Yulia Tymoshenko -- known as the "Gas Princess" due to her previous business dealings -- falling out.
A parliamentary election is due anytime (it was to be held last month).
There is no doubt Russia exerts its influence in the Ukraine, but the country -- which has been hit particularly hard by the credit crunch -- often has its own politicians to blame for its problems.
E-mail to a friend