(CNN) -- European and Russian leaders are holding crisis meetings Monday to try to defuse a dispute between the Russian energy giant Gazprom and Ukraine's state-run gas company Naftogaz Ukrainy.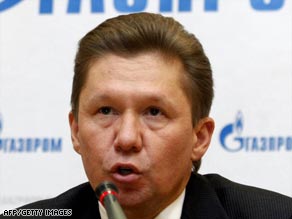 Gazprom chief executive Alexey Miller is meeting Russian Prime Minister Vladimir Putin.
Gazprom accuses the Ukrainian company of stealing gas and missing payments. The dispute has affected natural gas supplies to Europe.
European Union leaders are meeting Ukrainian officials in Kiev Monday, while Russian Prime Minister Vladimir Putin is sitting down with Gazprom CEO Alexey Miller in Moscow.
Gazprom said Sunday the Ukrainian company had racked up a debt of $614 million in 2008, and accused it of siphoning off nearly 10 percent of the natural gas Gazprom had shipped in a 24-hour period ending Sunday.
"Ukraine is refusing to acknowledge the current transit contract, which is valid until 2010, is flagrantly violating its obligations as a transit country and has not responded positively to any of the compromises proposed by Gazprom to resolve the situation," Gazprom spokesman Sergei Kupriyanov said in a statement.
Naftogaz rejected the allegations in a written statement of its own, demanding that Gazprom immediately resume regular gas supplies.
Don't Miss
The Ukrainian company accused Gazprom of deliberately failing to meet its obligations to the European Union.
It said Gazprom's measures "threaten both Ukrainian and European energy security and can result in unforeseeable consequences for the whole gas transport system of Europe."
The Russian company said Saturday it has filed a lawsuit in international court to stop what it claims is illegal siphoning.
"Gazprom has taken the decision to file a lawsuit with the Stockholm international arbitration court to force (state-run gas company) Naftogaz Ukrainy to secure unimpeded transit of Russian gas to Europe across Ukraine," Miller said in a statement on Gazprom's Web site.
Gazprom shut off Ukraine's gas supply on Thursday after saying it had missed $2 billion in payments. It acknowledged that Ukraine may have paid part of that amount, but said that still leaves Kiev $614 million in debt. Ukraine denied owing the money and is currently meeting its domestic needs with supplies from storage facilities.
Gazprom has reassured Europe that its natural gas supply, which runs through Ukraine, will not be affected by the dispute with Kiev. However, analysts are concerned that if the two sides do not reach a new agreement there will be a supply cut in the next two weeks.
Poland reported a drop in its supply on Saturday.
A Ukrainian delegation was in Europe on Saturday meeting leaders to seek help to end the crisis.
Russia is the world's biggest producer of natural gas and supplies Europe with more than 40 percent of its imports -- mainly via the pipelines through Ukraine.
E-mail to a friend

CNN's Michael Sefanov in Moscow contributed to this report.