MOSCOW, Russia (CNN) -- Ukraine and Russia said the supply of natural gas to Europe was completely shut off Wednesday, but each side blamed the other for the cut-off which comes as Europe faces a wave of freezing temperatures.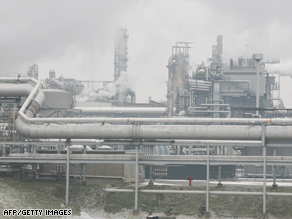 Austria's OMV gas refinery -- one of Europe's largest -- received 10 percent of its normal gas deliveries.
A spokesman for the Ukrainian state-run gas company, Naftogaz Ukrainy, told CNN that Russian gas giant Gazprom had turned off all gas flowing through Ukraine into the rest of Europe.
That forced Naftogaz to halt gas supplies meant for Europe, spokesman Ilya Savin said, because Naftogaz does not have the technical capability to pump the gas remaining in the pipelines on toward Europe.
Gazprom responded by saying they were not to blame.
"It's absolutely vice-versa," Gazprom's deputy chief executive Alexander Medvedev told CNN by phone from Berlin, Germany. "We didn't shut off gas supply to Europe. We have lost physical possibility to deliver gas to Europe through Ukraine because (the) Ukrainians shut down all export pipelines."

Map of Europe's gas pipelines and the countries affected by the row »
Both companies plan to meet Thursday for talks on the ongoing gas dispute.
At least 13 countries have reported their natural gas supply from Russia has been cut or reduced as a result of the row. Amid sub-zero temperatures in some places, European gas customers aren't freezing in their homes just yet.
Some countries reporting a drop in supply, like Romania and Italy, import most of their natural gas from countries besides Russia. Those countries have said that until the Russian gas supply resumes, they will increase their gas imports from other suppliers or rely on other energy sources.
The countries facing the most serious problems are those that import a majority of their gas from Russia. Lithuania depends on Russia for 85 percent of its gas; Slovakia for 100 percent, and Bulgaria for 90 percent, according to figures compiled in 2006 by the European Council on Foreign Relations.
"We have enough reserves for the time being, but under the conditions of limited consumption," Bulgarian Prime Minister Sergei Stanishev told CNN. Bulgaria is relying on alternative sources for its heating plants in the meantime, Stanishev said.

Watch the Bulgarian PM talking to CNN »
Countries Affected
(Figure refers to ave. Celsius temperature in each nation's capital at 17.25 GMT Jan. 7, from AccuWeather.com)

Vienna, Austria (-5)
Sarajevo, Bosnia-Herzegovina (-3)
Sofia, Bulgaria (-5)
Prague, Czech Republic (-5)
Berlin, Germany (-3)
Athens, Greece (7)
Budapest, Hungary (-5)
Rome, Italy (7)
Vilnius, Lithuania (-11)
Bucharest, Romania (-2)
Bratislava, Slovakia (-3)
Ankara, Turkey (0)
Kiev, Ukraine (-10)

Temperatures across Europe have been lower than average in recent days, with cold Arctic air pushing over the continent from the north. Forecasters predict the temperatures are likely to stay chilly through the weekend. Are the gas shortages affecting you? Send us your iReports

Analysts say the dispute is creating an "urgent" situation for European countries, but it's not easy to figure out who is responsible for shutting the Russian gas supply.

"I think it would be a fairly difficult forensic accounting process to really pinpoint the blame for this," said Julian Lee, a senior energy analyst at the Center for Global Energy Studies in London.

Gazprom's Medvedev said Russia and Europe have become "hostage" to the actions of Ukraine. He also warned that pipelines could freeze if left shut down for much longer, potentially requiring repairs, thus taking even longer to restore.

"In such cold weather, it's a high risk that water freezing problems could deter the activity of the gas pipeline system, which [might] not be restored in a quick time," Medvedev told CNN.

The apparent interruption in supply is the latest twist in a dispute between Gazprom and Naftogaz which began at the end of 2007. Gazprom accused Naftogaz of unpaid bills and shut off Ukraine's supply; Naftogaz denies owing the money and complained that a new natural gas contract was too expensive.

The problem is complicated by Ukraine's role as a transit country for Russian gas to Europe. Gazprom had promised its European customers that gas would continue to flow via Europe.

Gazprom has also accused Ukraine of siphoning off gas from the export pipelines to Europe.

Greece's natural gas company, DEPA, issued an urgent statement Wednesday saying it faced no immediate shortages, but was considering other supply routes amid the crisis.

DEPA chief executive Assimakis Papageorgiou said Greece was increasing its imports from Algeria, France and Britain. He said Turkey rejected a request for help Tuesday, saying it was "unable to meet Greece's request because it was facing a severe crisis of its own."

Italy reported a "substantial interruption" in its Russian gas supply Wednesday.

"What needs to be addressed with this issue is the wider implication that it's having for the rest of Europe, and the fact that both sides are damaging their international credibility," Lee said.
"Standing around, pointing the finger at each other, is not in anybody's interest. It's not ultimately either in the interest of Ukraine or Russia and it's certainly not in the interest of the European gas consumers."
E-mail to a friend

-- CNN's Mike Sefanov in Moscow, Anthee Carassava in Athens and Jenny Harrison in Atlanta contributed to this report.
All About OAO Gazprom • Ukraine • Russia