MOSCOW, Russia (CNN) -- The European Union, Russia and Ukraine have agreed on allowing a team of independent investigators to monitor inflowing gas pipelines from Russia into Ukrainian territory to help end a dispute that has left millions short of gas supplies.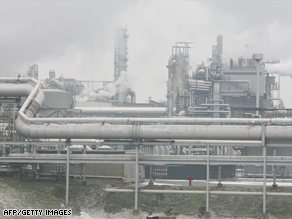 Austria's OMV gas refinery -- one of Europe's largest -- has seen its deliveries from Russia cut.
Representatives of the three negotiating parties agreed Thursday on the creation of a tri-partite commission to investigate any possible legal and technical breeches that has led Russia to lock down its gas supplies, impeding flow into the rest of Europe.
The new agreement was hailed by EU officials who have protested Russia's move to turn off taps.
About a quarter of Europe's gas supplies come from Russia's national gas supplier, Gazprom.
The dispute is rooted in a dispute between Ukraine and Russia over pricing and contractual terms that date back to nearly a year ago.

Watch why an end to the dispute may be near »
Among Gazprom's accusations, Ukraine has "siphoned off Russian gas illicitly" and "stopped gas deliveries to Europe's territory," forcing Russian officials to stop gas deliveries to Ukraine's entry point, using Belarus and other alternate routes.
Ukraine denies allegations of impropriety and called for independent investigations.
Heads of Russia's energy giant Gazprom and Ukraine's state-run gas company Naftogaz were in Brussels, Belgium, Thursday for separate talks with the European Union as gas supplies dwindled in the midst of winter.
All Russian natural gas deliveries to Europe through Ukraine were halted Wednesday, leaving millions of European customers at risk of gas shortages amid freezing winter temperatures. iReporter shivers in Ukraine
In a written declaration, the EU called the situation "unacceptable" and called for both parties to come to a quick solution.
The EU also called for Russia to honor their obligations and resume deliveries.

At least 10 countries have reported reductions or cuts in their gas supply from Ukraine since the situation flared this week.
The EU said it wants to find a longer-term solution to the crisis, "thus putting an end to regularly occurring crisis in the midst of winter."
E-mail to a friend

All About OAO Gazprom • Ukraine • Russia