(CNN) -- The European Union has finalized a deal on sending monitors to supervise supplies of Russian gas through Ukraine, an EU spokesman said Friday.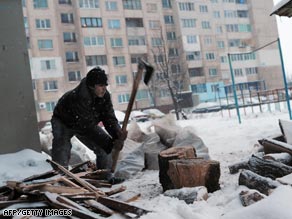 A Bulgarian man chops wood for heating after their gas supplies were cut.
"Conditions for sending the monitors are now in place and gas should start to flow immediately without further delay," Ferran Darradellas told CNN.
The deal raised hopes that millions of Europeans would soon have their gas switched on again, two days after the Russian supplies flowing through Ukraine to the continent were shut off amid a dispute between Russian energy giant Gazprom and Ukraine's state-run gas company, Nafrogaz.
Gas did not immediately resume flowing through the pipelines after the EU's announcement, however, Gazprom spokesman Sergei Kurprianov said.
After a flurry of meetings Thursday, representatives from all sides were in further negotiations Friday about the composition of the monitoring delegations. All sides told CNN that monitors were heading to Ukraine, but the makeup of that delegation was still unclear.
Czech Prime Minister Mirek Topolanek was among those heading to the Ukrainian capital of Kiev on Friday to discuss the deal, a spokeswoman for the Czech EU presidency, Emma Smetana, told CNN.
The situation is rooted in a dispute between Ukraine and Russia over pricing and contractual terms dating back nearly a year. The two sides failed to reach agreement, leading Gazprom to shut off Ukraine's gas supply at the start of the year.
Gas flowing through Ukraine to Europe initially continued to flow under international transit agreements, but that European supply was completely cut off Wednesday, leaving millions of Europeans facing an especially cold winter without gas. iReporter shivers in Ukraine
Gazprom and Naftogaz blamed the other for shutting the European supply.

The EU has called the situation "unacceptable." About a quarter of Europe's gas supplies come from Gazprom.
Among Gazprom's accusations is that Ukraine siphoned off Russian gas intended for Europe when its own supply was cut. Ukraine denies allegations of impropriety and called for independent investigations.
E-mail to a friend

CNN's Mike Sefanov in Moscow and Alysen Miller in London contributed to this report.
All About OAO Gazprom • Ukraine • Russia