MOSCOW, Russia (CNN) -- Russia resumed sending natural gas to Ukrainian pipelines Tuesday, a week after the gas flow was interrupted, but the gas was stopped at the Ukrainian border instead of being passed through to Europe.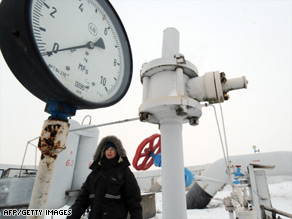 A woman passes in front of a manometer set on a gas pipe in the Ukrainian city of Boyarka, near Kiev.
Hours after Russian energy giant Gazprom started sending the gas again, the company said pressure measurements showed Ukraine's entry taps are shut.
European Union spokesmen said "little or no gas" was flowing into Ukraine and called it a "very serious" situation.
Ukraine's state-run gas company, Naftogaz, confirmed that it had stopped Russian gas flowing into Ukraine. It appeared to blame a procedural fault between the two companies.
"Naftogaz of Ukraine hereby declares that these volumes and directions (of gas) have not been timely agreed between two operators of the neighboring gas transport systems," the company said in a written statement.
"The company is convinced that in order to ensure stable gas transit ... the parties have to update and re-execute documents to regulate transparently the technical and technological coordination of the neighboring gas transport systems' operation."
The European Union said it didn't yet know the reason for the blockage.
Don't Miss
"The information that we have from our monitors in Russia is that little or no gas is currently flowing," said Pia Ahrenkilde Hansen, an EU spokeswoman.
"We are not at this stage jumping to conclusions as to why this is the case, but this situation is obviously very serious and needs to improve rapidly."
Gazprom resumed sending gas to Ukraine again after the two sides reached a deal Monday to allow for the presence of international monitors. Those monitors are to check the flow of gas in each country to ensure it is delivered to Europe.
Monitors were dispatched, but the EU said Tuesday they weren't being allowed to do their jobs.

Watch what led to the breakdown in the deal »

"EU monitors haven't yet been given unfettered access to dispatching centers in Kiev and Moscow," said Ferran Tarradellas Espuny, the EU spokesman for energy. "This is an essential condition."
Monday's deal did not address the weeks-long dispute between Russia and Ukraine over gas shipments to the former Soviet republic. Ukraine's domestic supply of Russian gas has been shut off since the start of the year amid disagreements over past payments and a future contract.
E-mail to a friend

All About OAO Gazprom • Ukraine • Russia