By Richard Allen Greene
CNN






(CNN) -- Silvia Todorova has been heating water in a cooking pot so she can bathe her eight-month-old son Daniel.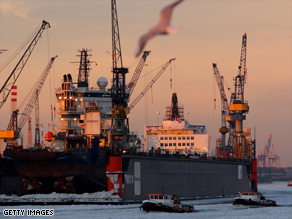 Snow-covered ice floats down the Elbe river in Hamburg, Germany, as the temperature plummets.
Dijana Isakovic is running a temperature, taking antibiotics and wearing two shirts and a sweater to try to keep warm.
Workers in Slovakia are sitting at home, their factories idle.
All their problems stem from the same source: the seemingly endless dispute between Russia and Ukraine that has cut off supplies of natural gas to Europe.
Bulgaria, where Todorova lives, is among the hardest hit by the crisis -- it imports 90 percent of its natural gas from Russia.
"We were freezing for two days," said Todorova, 33, a teacher and mother of two. "The electric heaters are working 24 hours a day, which affects our electricity bill. This month it will be 40 percent more" than usual.
The crisis comes as much of Europe slogs through winter. Temperatures have been well below freezing in Bulgaria since Russia shut off the gas to Europe on January 6.
People "are cold at home, then they go to work and they are cold again," said Sevdalina Voynova, government affairs director of the American Chamber of Commerce in Bulgaria.
Many schools in the country closed for lack of heat, she said, meaning parents had to leave their children at home in the cold.
"They have to go to work. They have no idea how to warm the kids at home," she said.
It's even cold on public transport, she said.
Don't Miss
"Heating on the vehicles was one of the first places they tried to save on gas," she said. "People were freezing moving from one place to another, freezing at home, and freezing in the office."
But those who were freezing at work may be the lucky ones -- some factories have been forced to halt operations for lack of gas, Voynova said.
At least three companies that are members of the American Chamber of Commerce have shut down all production, she said.
Two major employers, the ceramics manufacturers Ideal Standard and Vidima, were already suffering due to the worldwide economic crisis.
"They put their workers on long holidays before Christmas. They were supposed to come back to work January 9, but they have extended their holidays for nobody knows how long," she said.
Cosmetics company Alen Mak stopped production about 10 days ago, she said.
"All their employees are on enforced holidays. They're using up their holiday days for the year -- but that's the better option. The other option is to start laying people off," she said.
The same thing is happening to the north, in Slovakia, which also gets all its natural gas from Russia and has been rationing its supplies.
"People are home, on forced leave" and reduced salaries, said Elena Mallickova of Slovak TV. "The big factories are informing us how many millions of euros they are losing each day," she added.
Ordinary people in Slovakia are not feeling the effects of the gas dispute the way Bulgarians are, she said.
But Dijana Isakova, a journalist in Bosnia-Herzegovina, is on sick leave, which she blames on the cold. "A lot of people are sick with flu and fevers," she said.
Her 74-year-old grandmother has taken an old wood-fueled heater out of the garage to stay warm, Isakova said.
She herself is relying on electric heaters, but lives with her aunt in a large, drafty apartment, she said.
"It's impossible to heat the whole apartment with two heaters. The windows are not so good, so the cold air is coming inside."
Kenan Cerimagic, who works with Isakova at NTV Hayat, said the price of electric heaters had gone up 50 percent since the gas was cut off. "We're getting icy rain. There's no snow but everything is frozen," he said.
But although Bosnia-Herzegovina is relying on emergency supplies of gas from other countries such as Hungary and Germany, Cerimagic is looking on the bright side.
"Today it's a little bit warmer: -5 Celsius (23 Fahrenheit.) Normally it's -10, -13," he said.

And he pointed out that the country emerged from war less than a decade ago, which might make Bosnians more stoic about suffering through a cold winter.
"People are saying, 'At least there is no shooting,'" he said. "So we will survive."
E-mail to a friend

All About OAO Gazprom • Ukraine • Russia