MOSCOW, Russia (CNN) -- Frustrated European Union leaders lashed out Wednesday at Russian and Ukrainian energy companies whose dispute over natural gas has stopped supplies to Europe for the past week.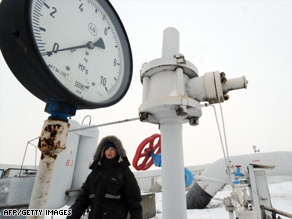 A woman passes in front of a manometer set on a gas pipe in the Ukrainian city of Boyarka, near Kiev.
European Commission President Jose Manuel Barroso called it a "brutal stoppage of gas supplies" and said it needs to be resolved "urgently."
"The lack of supply of gas from Russia to Europe via Ukraine is, in short, both unacceptable and incredible," Barroso told reporters. "Russia and Ukraine are showing that they are incapable of delivering on their commitments to some European Union member states."
Barroso also urged European gas and energy companies to sue in order to get their gas turned back on if the dispute is not resolved right away.
"We will see very soon whether there is a technical hitch or whether there is no political intention to honor the agreement," Barroso told the European Parliament in Strasbourg, France.
Russia's Gazprom and Ukraine's Naftogaz signed a deal Monday to resume shipments of Russian gas through Ukraine, but that has yet to take effect. Russia resumed pumping the gas Tuesday but Ukraine stopped the gas at the border and refused to allow it through.
Barroso said both companies "disagree completely on the entry points and routes" for the gas to Europe.
Gazprom officials say the route it wanted to use is the designated export route that has always been used in the past for export, so there was no reason it shouldn't be used now. They say the pipelines Ukraine wanted to use are those bringing gas to Ukrainian domestic consumers, which Gazprom can't use because it has no contract with Ukraine for 2009.
"We are no kids here," Gazprom's Deputy Chief Executive Alexander Medvedev said late Tuesday. "We are the supplier, and it's not Ukraine's business to decide which routes we should use to supply our gas."
A Ukrainian government official said Russia "deliberately" chose a nonviable route in order to make the country look bad.
"This was travesty on Russia's part with the aim of undermining Ukraine's reputation as a reliable and predictable transit country," Ukraine's Deputy Foreign Minister Kostyantyn Yeliseyev said, in comments carried by Russia's Interfax news agency.
When the gas supply through Ukraine to Europe was completely shut off January 7, both companies blamed the other for the move. The European Union held days of talks in Brussels, Kiev and Moscow before Monday's deal came through.
Under the agreement, the companies agreed to let the gas flow again as long as delegations of international monitors are in place to oversee the gas flow.
Don't Miss
"Our monitors are there, doing everything they can to try and get them to agree, but it is essential that the two sides coordinate and agree on the routes themselves," Barroso told reporters. "It is not our responsibility. ... It is the responsibility of Ukraine and Russia."

Watch what led to the breakdown in the deal »
The impasse has highlighted Europe's dependence on Russia for natural gas. Seven European countries depend on Russia for more than half of their natural gas imports, and another five depend on Russia for all of it.

While Ukraine is not the only outlet for Russian gas to Europe, it is one of the main ones, and the cutoff of gas through Ukraine has hit some countries hard.
Czech Prime Minister Mirek Topolanek, whose country holds the rotating EU presidency, told Parliament the issue shows the need for Europe to liberalize its energy market and find other sources of gas besides Russia and Ukraine.
E-mail to a friend

All About OAO Gazprom • Ukraine • Russia