London, England (CNN) -- European officials expressed frustration at Russia and Ukraine's inability to enforce an agreement to resume delivery of natural gas, amid heat and cooking gas shortages and sub-zero temperatures endured by millions of people.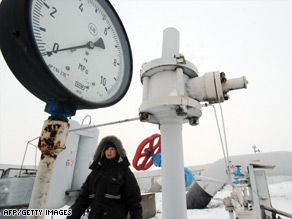 A woman passes in front of a manometer set on a gas pipe in the Ukrainian city of Boyarka, near Kiev.
German Chancellor Angela Merkel was expected to meet Friday with Russian Prime Minister Vladimir Putin and his Ukrainian counterpart Yulia Timoshenko in an emergency meeting in Berlin. Merkel said she was likely to reinforce the EU's position as a natural gas customer.
"There is a risk that the confidence in Russia may be lost due to the ongoing disruption," said Merkel.
On Thursday European Commission President Jose Manuel Barroso urged Ukraine and Russia to quickly implement a compromise that would return natural gas deliveries from Russia's Gazprom's pipelines through the Ukraine as soon as possible.
"If the agreement is not honored, it means that Russia and Ukraine are no longer to be considered reliable partners for the EU in matters of energy supply," said Barroso.
Ukraine is a major entry point for Russian gas into Europe. Russia and Ukraine's dispute over pricing and contractual terms began nearly a year ago, escalating into the present crisis that has prompted Russia to turn off its taps. Both nations help deliver about 25 percent of Europe's natural gas.
In the long term, the EU eyed plans to build a pipeline to purchase natural gas from Central Asia and eventually Iraq and Iran. It was also building up infrastructure to import liquefied gas from North Africa and the Middle East and exploring nuclear energy.
Don't Miss
During Wednesday's open session, European Parliament members and commissioners lashed out, with EU Energy Commissioner Andris Piebalgs saying, "We are living through one of the most serious energy crises yet-comparable with the 1970s oil crisis."
"Despite promises and the protocol signed on Monday, gas is not yet flowing from Russia through Ukraine."
Piebalgs said Russia had resumed gas deliveries on Tuesday, at one-third of normal flow, but Ukraine had stopped it claiming that Russia had chosen a difficult entry point.
Eastern Europe was experiencing a historic low in temperatures and Siberian weather conditions. When Russia's natural gas delivery was halted, it relied on its stockpile, which is quickly running out.
Croatia's government has declared pre-alert measures and announced gas shutdowns for everyone except for households, hospitals, schools and kindergartens.
In the capital city of Zagreb, businesses are losing money due to the shortage, an estimated 10,000 Euros a day. Five hundred companies have been cut-off so far.

Danijel Zadijeloviae, owner of Lipik Glass, said the shortages have lost his business millions of Euros.
"If we had lost gas for only a second, it would caused us damages of up to 3 and a half million euros," he said.
E-mail to a friend

CNN's Jim Boulden and Matthew Chance contributed to this report.
All About OAO Gazprom • Ukraine • Russia