By Grace Wong
For CNN





LONDON, England (CNN) -- The $230 billion luxury goods market faces one of its most challenging years as a noticeable wave of pessimism sweeps the affluent.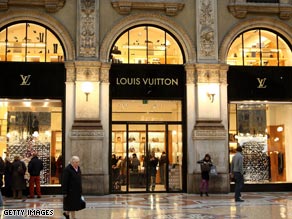 The Louis Vuittons of the world face a tough year as the worsening global economy hits the high end.
A steady stream of dour economic news, corporate layoffs and bleak profit announcements is battering consumer confidence even among the rich, industry watchers say.
It comes as the CEO's from some of the biggest names in luxury meet in Switzerland to discuss changing consumer and business trends in the industry.
Just a year ago, many thought the luxury market would evade the worst of the downturn in consumer spending. But the depth of the current economic crisis has taken many by surprise.
"It's had the effect of freezing spending at all levels," said James Ogilvy, publisher of Luxury Briefing, a monthly report that monitors the luxury industry.
Luxury jeweler Tiffany's global sales fell steeply during the holiday period, tumbling 21 percent from the same period a year ago. CEO Michael Kowalski noted "cautious spending by Tiffany customers across the entire range of jewelry categories and price points."
In a sign that sales are expected to deteriorate further, businesses that cater to the rich are also cutting jobs. Christie's International, the world's largest auctioneer, is planning a company overhaul that could lead to significant layoffs.
Luxury sales usually hold up well during tough times because wealthy buyers are more insulated from market swings and recessions, but demand is flagging among consumers in the core European, U.S. and Japanese markets.
Meanwhile the credit crunch has slowed the pace of development in emerging markets like China and Russia, which drive the industry's growth.
Signs of weakness were already apparent in the autumn. Sales at LVMH Moet Hennessy Louis Vuitton, the world's largest luxury goods maker, grew 3 percent in the third quarter, versus the 5 percent increase posted in the first half of the year.
At the top end, French luxury house Hermes, whose coveted hand-crafted Birkin totes start at a heady $8,000 a pop, posted sales growth of 4 percent in the third quarter compared to 12.3% over the same period in 2007.
Consumer confidence among high net worth individuals has waned even further since the collapse of Wall Street firm Lehman Brothers in September and the ensuing malaise in the financial sector.
"There is a real crisis of confidence," John Guy, a London-based luxury goods analyst at brokerage MF Global Securities, said. "2009 will be the most difficult year luxury goods makers have faced in a long time."
Consulting firm Bain & Co. expects sales of high-end goods to drop as much as 7 percent this year, with categories like jewelry and apparel forecast to suffer the worst. The decline would be the first contraction for the luxury market in six years.
Consumers are likely to benefit as luxury goods companies explore new ways to boost sales. Analysts say they expect to see more short-run limited edition lines as well as an emphasis on details like handwork that add value to a product.
Luxury goods companies are usually reluctant to cut prices, but some like Tiffany's already have. The jeweler cut prices on some of its high-end items by 10 percent during the holiday shopping season. Companies also can't control price cuts their distributors make.
Serious belt-tightening is needed if purveyors of luxury want to survive, but they need to walk a fine line when it comes to closing stores or reducing prices, says Claudia D'Arpizio, a Milan-based partner at Bain. "They don't want to take actions that could dilute their brand equity and positioning."
Some companies are better positioned to weather the storm. For instance, Richemont, which owns jeweler Cartier, has a lot of cash on its balance sheet, according to Guy. That's a good position to be in amid a clampdown on credit.
While there will have to be some retrenching this year, Bain is upbeat on the long-term outlook for the industry. Over the next five years, it expects spending on high-end goods to surge.
Currency fluctuations may also boost some firms. The euro surged against the dollar last year, which weighed on many luxury goods makers. But the dollar recently has regained some ground, as has the yen.
It's difficult to know how long it's going to take before spending recovers, according to Ogilvy. But the Louis Vuittons and Cartiers of the world have history on their side.
"Many of these brands have been around 150 years or more. They've been through world wars, revolutions and financial crises," Ogilvy said.
They aren't going to go out of style overnight.
E-mail to a friend

All About Consumer Spending • Economic Crisis • Luxury and Exotic Cars