LONDON, England (CNN) -- Hundreds of tons of timber that fell from a Russian cargo ship in the English Channel this week has started washing up on shore prompting authorities to urge people not to take any of it home.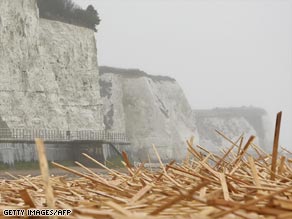 Timber washes ashore at England's famous white cliffs.
The sight of wooden planks littering the shoreline in Kent has drawn stares from curious residents, but others have shown up to take some of the wood for themselves.
"I've got a leaking roof and I think it might be really good for that job," said Rex Hope, who drove off with planks of wood in the back of his truck.
The planks are part of a timber cargo that fell overboard from the Russian vessel Sinegorsk in rough seas on Monday. The ship, which had been traveling from Sweden to Egypt, lost a total of 1,500 tons of timber, officials said.

Watch lumber afloat in the English Channel »
Britain's Maritime and Coastguard Agency was actually hoping the wood would wash ashore because that would assist cleanup, a spokesman said.
But by Friday, authorities had to warn off scavengers after the timber washed up on beaches between the towns of Ramsgate and Broadstairs, on the tip of the Kent coastline in southeastern England. Watch scavengers spell out a timber message

"This cargo remains the property of the original owner, and to steal it is not only foolhardy, but also a criminal offense," said John Molloy, chief superintendent in East Kent.
Under the Merchant Shipping Act of 1995, it is an offense to keep cargo from a wreck or refuse to give it to the receiver. Violators face a fine of up to 2,500 pounds ($3,400).
In 2007, hundreds of scavengers combed beaches in Devon, southwestern England, when cargo from a ship washed ashore. Police then said they were powerless to act if the beachcombers promised to return the goods to the lawful owner.
Recovered items included car parts to baby clothes, and at least one BMW motorcycle. Shortly afterwards, items apparently from the cargo ship appeared on eBay.
Alison Kentuck, the Receiver of Wreck with the Maritime and Coastguard Agency, said: "It's not a case of finder's keepers," Anybody who does recover any timber must report this to the receiver of wreck or they are committing a criminal offense."
Authorities also warned that the heaps of timber on the shoreline made for a dangerous environment with changing tides.
Their advice didn't seem to faze those who used the timber planks to spell out "WELCOME TO RAMSGATE" in big letters on the beach.

The Sinegorsk's insurers have appointed contractors to recover the lost cargo, the Coastguard said.
The vessel suffered no damage when it lost the timber, according to the ship's owner, Far Eastern Shipping Company of Vladivostok, Russia. It is docked in Southampton, England while the ship's condition is assessed and to restock the recovered cargo, the Coastguard said.
E-mail to a friend

All About Maritime and Coastguard Agency • United Kingdom