(CNN) -- The United Nations considered suspending delivery of food to areas of Somalia after the recent killings of two aid workers, said a spokesman for the organization's World Food Program.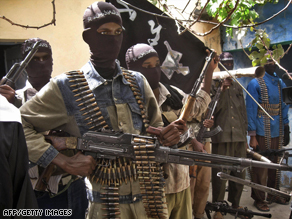 Islamist insurgents display their weaponry in Mogadishu during a parade in mid-January.
Gunmen shot and killed the workers in early January, causing the U.N. agency to worry about the safety of its staff.
"We initially considered suspending WFP food distributions until security improves," said Ramiro Lopes da Silva in a statement released this week.
"But such a step would hurt the very people we seek to help, especially women and children suffering the most from this merciless conflict."
The agency still plans to deliver enough food to feed 2.5 million people in the next two months, but aid workers had concerns about their safety, Lopes da Silva said.
"We want community leaders to step forward and offer us clear assurances that WFP workers will be able to carry out their humanitarian work in safety," Lopes da Silva said.
Somalia has been wracked by violence and lawlessness since the government was overthrown in 1991. The number of people who need humanitarian assistance has grown amid a recent drought, and high food and fuel prices, Lopes da Silva said.
In mid-January, the United Nations Security Council unanimously adopted a resolution expressing its intent to -- eventually -- send U.N. peacekeeping forces back to the fractured, unstable nation of Somalia.
Don't Miss
The resolution was sponsored by Washington, in one of the final Bush Administration initiatives at the United Nations.
The passage of the resolution came one day after the exit of a U.N.-backed, Ethiopian peacekeeping force that completed a two-year deployment in Somalia on January 15.
E-mail to a friend

All About Somalia