By Simon Hooper
CNN





DAVOS, Switzerland (CNN) -- Turkish Prime Minister Recep Tayyip Erdogan stormed off stage at the World Economic Forum on Thursday during an angry discussion with Israeli President Shimon Peres over the crisis in Gaza.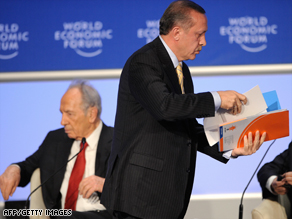 Erdogan leaves the stage Thursday as Peres looks left.
Erdogan was visibly angered after Peres had said that Israel was committed to peace and blamed Hamas for the situation in Gaza, where Israel staged a three-week military operation earlier this month.
He then started to respond but was cut off by the moderator who said the debate had run overtime.
Earlier in the debate, Erdogan had described the military campaign in Gaza as "barbaric" and accused Israel of using excessive force. Peres said Hamas was responsible for the "tragedy," accusing the Islamist militants of creating a "dangerous dictatorship."
United Nations Secretary-General Ban Ki-moon and French Foreign Minister Bernard Kouchner were among the other leaders making keynote appearances at the forum.
Earlier, U.N. chief Ban announced details of a $613 million humanitarian aid appeal for the people of Gaza following this month's Israeli military offensive.
Afghanistan's Defense Minister Mohammad Rahim Wardak called on U.S. President Obama to deliver on his pledge to commit more troops to the fight against Taliban and al Qaeda militants, but said his country needed more investment to prosper as well.
Don't Miss
But Kouchner said France, which currently commits 2,600 troops to the NATO-led operation, would not be increasing the size of its deployment.
"We have just increased the number of our soldiers," he said. "There is no prospect of sending more troops for the time being, and it has not been asked."
Amid the gloom of a business summit at a time of financial crisis, former U.S. President Bill Clinton managed to deliver an upbeat message, telling delegates, "This is still a good time to be alive."
Clinton admitted that the deepening impact of the financial meltdown, which is dominating the agenda at this year's meeting in Davos, had left many people frightened -- but said the global scale of the crisis proved that the world's nations could no longer afford to turn their backs on one another.
"This financial crisis proves, as nothing else should or could, the fundamental fact that global interdependence is more important than anything else in the world today," Clinton said. "We cannot escape each other. Divorce is not an option."
Clinton, the husband of current U.S. Secretary of State Hillary Clinton, urged the current generation of international statesmen to rise to the leadership challenges posed by the financial collapse and climate change.
"This is not a time for denial or delay. Do something. Give people confidence by showing confidence," said Clinton, who served in the White House from 1993 to 2001. "Don't give up. Don't bet against yourself. Don't bet against your country. This is still a good time to be alive."
In a year when celebrities have been notable by their absence here, the appearance of the still-charismatic Clinton offered some light relief as delegates also turned their attention to the situation in the Middle East and the war in Afghanistan.
E-mail to a friend