By CNN's Simon Hooper





DAVOS, Switzerland (CNN) -- Former British prime minister Tony Blair said Friday he was "not concerned" by a ruling that details of cabinet meetings in the run-up to the Iraq war should be made public and told CNN the release of the minutes was a decision for the current government.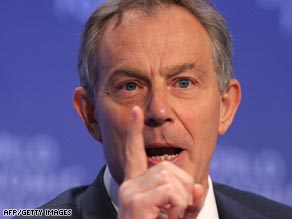 British ex-prime minister Tony Blair says issue of meeting details is current government's decision.
Blair committed UK forces to the U.S.-led invasion of Iraq in 2003 despite strong domestic opposition to British involvement.
"My reaction is that this is for the government now to deal with," he told CNN's Christiane Amanpour in an interview at the World Economic Forum.
"The consequences of this go far beyond the individual cabinet meetings when I was prime minister. I think it is best to leave to the present government."
Asked whether he was concerned about the contents of the the minutes, Blair said: "I'm not concerned at all."
Blair, currently a special envoy for the "Quartet" of Middle Eastern peacemakers -- the U.N., the U.S., the EU and Russia -- said he was "concentrating on the Middle East peace process."
The UK's Information Tribunal ruled earlier this month that the government must release notes from two key meetings in which it committed to the invasion of Iraq in 2003.
"This is an exceptional case," the tribunal wrote in its verdict, declaring that the public interest in learning how the government made its decision outweighed the need to keep government discussions confidential.
Don't Miss
The Cabinet has been fighting for nearly two years to keep the notes secret. It has 28 days to appeal the decision.
The decision covers only the official minutes of the meetings on March 13 and March 17, 2003, days before the invasion of Iraq began on the night of March 19.
The notes will be edited "to avoid unnecessary risk to the UK's international relations," the tribunal ruled.

The agency rejected a separate request for the release of informal notes taken by participants at the meetings.
At the March 17 meeting, Attorney General Lord Peter Goldsmith laid out his opinion that there was legal justification for the invasion, according to the ruling. He presented his views to Britain's Parliament later the same day, which made them available to the public.
E-mail to a friend

All About Gordon Brown