By Olivia Feld
For CNN





LONDON, England (CNN) -- Britain's top student body has urged protesters to abandon nationwide university sit-ins over Israel's military actions in Gaza as others voice concern over increasing hostility towards Jewish students.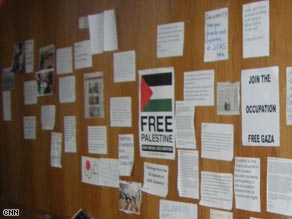 Message of support for the protesters inside King's College, London.
The National Union of Students said while it understood feelings behind the several weeks of protests on a scale rarely seen in Britain since the 1960s, the levels of disruption was now at an unacceptable level with heightened tensions on campuses.
"The protesters need to find new ways to campaign vocally without causing disruption to students on campus" Wes Streeting, N.U.S. president, told CNN.
The protests have also resulted in negative repercussions towards Jews on campuses, according to the country's Union of Jewish Students.
"Where there has been occupations, there has been an increase in harassment, intimidation and hostility towards Jewish students," said Yair Zivan, the group's campaign directors.
Other students have also been affected. Cambridge University's Students' Union President Mark Fletcher told CNN complaints were made by students to the university about the sit-in of its prestigious law faculty.
A spokesperson for the University of Nottingham, in central England, said students were missing lectures as a result of the protests.
"We are extremely disappointed that a small number of individuals have chosen to disrupt teaching and learning in this way," he said.
Social networking sites have also become embroiled in the protests, with students on both sides using the Internet to drive their campaigns.
A Facebook group against the action at Cambridge University says the protesters were "blackmailing our university and undermining academic independence."
However, students are refusing to leave until the universities meet demands including: The issuing of a statement denouncing Israeli attacks in Gaza; cutting ties to the arms trade, the sending of surplus books and computers to Gaza, scholarships for Palestinian students and the dropping of any legal, financial, or academic action against the protesters.
The size of the protest groups vary from a few people to more than 100, with crowds swelled by high profile speakers, such as Tony Benn, a former British Cabinet minister and president of anti-conflict body Stop the War Coalition.
The campaign started mid-January at London's School of Oriental and African Studies, where students staged a sit-in at a British Ministry of Defence exhibition on campus.
Occupations are currently ongoing at London's Queen Mary College and King's College and have spread across the country to campuses in, Cambridge, Oxford, Birmingham, Nottingham, Sheffield, Leeds, Coventry and Manchester.
While no single organization appears to be coordinating the protests, the number of universities affected appears to have grown with the help of social networking sites. Blogs are being used to communicate between campuses and report on the latest in negotiations.
John Cooper, one of 20 students sleeping in a lecture theatre at King's College University of London, told CNN: "We're really determined and we'll stay as long as we need to."
Cooper added he is confident the university would agree to all demands, including the revocation an honorary doctorate awarded to Israeli President Shimon Peres.
King's College declined to comment on protesters' demands.
Other students defended their campaign method. "The occupation has proved to be a viable way to campaign" said Victoria Lazzari, a protesting student at King's College.
At the London School of Economics organizers were claiming victory after a number of their demands were met by the university.
The school's director, Howard Davies, released a statement saying: "All parties should respect the integrity of scholarship and intellectual and academic freedom and should work to minimize suffering."
The statement added that the university will waive application fees for students from Gaza and the West Bank, as well as organize a fundraising day in conjunction with the Students Union in support of a charity, Medical Aid for Palestinians.
E-mail to a friend