Editor's note: Fareed Zakaria is a foreign affairs analyst who hosts "Fareed Zakaria: GPS" on CNN at 1 and 6 p.m. ET Sundays.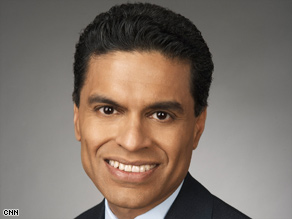 Fareed Zakaria: The financial crisis had attendees gasping at the World Economic Forum in Switzerland.
NEW YORK (CNN) -- Thousands turned out to greet Turkish Prime Minister Recep Tayyip Erdogan on his return home from Davos, Switzerland, on Friday, a day after a heated exchange with Israeli Prime Minister Shimon Peres over Israel's military campaign in Gaza.
Erdogan stormed offstage during a debate at the World Economic Forum in Davos, but Peres told CNN on Friday the two leaders had spoken on the phone to clear the air.
At a press conference earlier, Erdogan said his words were directed at the Israeli government, not the Israeli people.
World affairs expert and author Fareed Zakaria attended the forum's annual meeting in Davos and discussed the incident.
CNN: Why did the Turkish prime minister walk out of the session on Gaza?
Fareed Zakaria: Prime Minister Erdogan is a man of strong views but also an emotional guy. And the topic is one about which people do get passionate. I don't think anyone really did anything wrong. President Shimon Peres went on for too long, and that meant Erdogan had less time to respond. [Davos sessions always end on time.]
But notice that the Turkish people have been delighted by Erdogan's behavior since thousands waited at the airport at 3 a.m. to greet his plane. Passions are running even stronger in the Middle East than in Davos.
CNN: Besides this incident, what has the mood been like in Davos this year?
Zakaria: The dominant feeling is one of disorientation. In every previous year -- and I've been coming every year since the mid-1990s -- the participants felt as if they understood the basic framework in which the world was operating. But this financial crisis -- the depth, scale and severity has left everyone gasping. It's a humbling time.

Watch Fareed talk about the World Eonomic Forum »
CNN: Who has made the most impact?
Zakaria: Russia's [Vladimir] Putin and China's Wen Jiabao. Both gave speeches that in some sense scolded the West for its arrogance and its undisciplined policies. It was striking to watch -- a former Third World country and the former Soviet Union chastising the great Western powers. There is a feeling that one is in a "post-American world" to coin a phrase.
CNN: Is that because the Americans haven't shown up?
Zakaria: Well, there are plenty of Americans here. The language you hear most often on the streets is still English, with an American twang. It's that they do not dominate the agenda in the way that they used to. They're on the defensive.
But two absences are noticeable. The big American bankers, who took up a lot of airtime, aren't here. Understandably, they don't want to sit onstage and explain what went wrong. And the Obama team isn't much represented. That's understandable, but it's a shame. There are 41 heads of state here.
If Hillary Clinton or Joe Biden could have found a way to come, they could have done a fair bit of work.
CNN: Is there any country that is standing out?
Zakaria: Not really. Usually there is one country or another that is the year's star performer -- because of a brilliant year economically or a gifted prime minister. This year, a few countries have put on parties, but that hasn't translated into much buzz.

CNN: What's the hottest party?
Zakaria: Well, I've been working on segments for "GPS," writing my Newsweek column and getting some sleep. When I get to a party, I'll let you know.
E-mail to a friend

All About Davos • Recep Tayyip Erdogan • Vladimir Putin • Wen Jiabao