By CNN Senior European Correspondent Jim Bitterman





PARIS, France (CNN) -- Just moments before the chamber of the French National Assembly had been filled with noisy political caterwauling, but when Bernard Kouchner rose to defend his honor, the hall went dead quiet.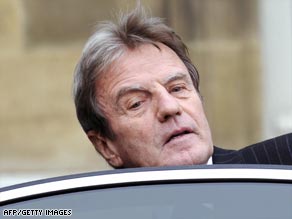 Kouchner insists he has done nothing wrong.
Accused of unethical -- but not illegal -- conduct in a book by a well-known investigative journalist, the iconic foreign minister, who consistently leads opinion polls as the most popular politician in France, said the book -- "The World According to K" -- is nothing but lies.
Its author, Pierre Pean, charges that Kouchner, the founder of Doctors Without Borders who is well known for humanitarian efforts, collected fat fees for public health consulting work in Africa before joined Nicolas Sarkozy's government.
The foreign minister vigorously denied any wrong doing and said he was totally transparent about his consulting work, was paid €6,000-a-month for it and declared and paid income taxes on his fees.
Don't Miss
He said: "It is a book that, line after line, makes me out to be a... a bad Frenchman of questionable origins -- grasping at profit. It's fine to talk politics, but I will not let anyone smear me... or what I've done. That's shameful."
In pointing to politics, Kouchner, a one-time member of the socialist party, was making reference in part to the irritation of some on the left here about his defection to Sarkozy's right-wing government
The author, who also accuses Kouchner and his companion Christine Ockrent of forgeting their republican values to enjoy a jet-setting lifestyle with the rich and famous, may end up in court.
Kouchner's lawyer says there may be grounds for a civil libel suit and is urging prosecutors to take a look at whether there may be cause for a criminal libel suit as well.
E-mail to a friend