LONDON, England (CNN) -- UK police found 15 suspected illegal immigrants covered in cocoa powder in the back of a truck that was apparently headed to a Mars chocolate factory, police and border officials said Thursday.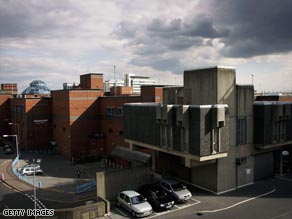 Police say they found the suspected illegal immigrants in the town of Slough, shown here in a file picture.
The men, aged between around 20 and 40, were found Wednesday morning in Slough, west of London, Thames Valley Police said.
"They were all physically fine, although the ambulance services had to check them," said a police spokesman who asked not to be named, in line with policy.
The men were covered in cocoa powder, said a spokesman for the UK Border Agency.
Authorities suspect the truck was going to the Mars factory in Slough, he said.
Another truck carried three more suspected illegal immigrants, said the spokesman, who also asked not to be named.
All 18 men were handed over to the border agency, he said.
The trucks were driven by two Dutch drivers, who have since been arrested, the spokesman said.
The Mars factory in Slough produces chocolate snacks including Bounty, M&Ms, Mars, Milky Way, Snickers and Twix, according to the company.
E-mail to a friend