LONDON, England (CNN) -- The UK government has clashed with the judiciary amid claims that Washington pressured London into not releasing documents that reveal the torture of a terrorism suspect, UK media report.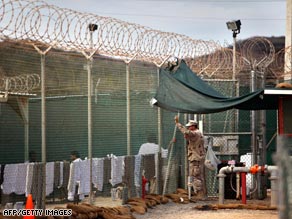 Binyam Mohamed has been held at Guantanamo Bay for more than four years.
Ethiopian Binyam Mohamed, 30, formerly resident in the UK, has been held at Guantanamo Bay since September 2004. Allegations that he he was involved in a plot to release a "dirty bomb" in the United States have now been withdrawn.
Mohamed and his supporters allege he was tortured in Pakistan, Morocco and Afghanistan between 2002 and 2004, and that the UK security services were complicit.
UK media outlets had appealed against an earlier ruling to withhold documents relating to the alleged torture.
Two UK High Court judges said Wednesday, in comments reported by the UK's Press Association, that the papers would still not be disclosed after UK foreign minister David Miliband warned their publication might affect intelligence sharing between the U.S. and UK.
In their ruling, reported by PA, the judges said the documents included information "relevant to allegations of torture," but added that they did not contain any sensitive intelligence.
Don't Miss
Rather, the judges concluded, the material was "politically embarrassing" and urged the new U.S. administration to take a different approach.
The judges also suggested the U.S. government had pressured London about the intelligence-sharing relationship should the documents be released.
Miliband told the UK's Channel 4 News Wednesday that intelligence co-operation between nations relied on confidentiality and that there would have been repercussions if the papers had been released.
But he added: "There has been no threat from the United States to 'break off' intelligence cooperation."
"In this case, the United States made clear, in documents that have been published, that there would inevitably be serious and lasting harm if that fundamental principle was breached," Miliband said.

"It is American information and it is for the Americans to decide when to publish their information."

The UK government has peviously pressed for the release of Mohamed. Last month U.S. President Barack Obama set a one-year deadline for the closure of Guantanamo.
Clive Stafford Smith, lawyer for Mohamed, said in a statement on the Web site of human rights group Reprieve that the U.S. and the UK governments were legally obliged to investigate any allegations of torture.
"For the foreign secretary to give in to these illegal demands by the Bush Administration is capitulation to blackmail, pure and simple. It is hardly Britain's finest hour. As the judges say, it is up to President Obama to put his money where his mouth is. He must repudiate his predecessor's reprehensible policy."
Earlier this week Miliband met with his U.S. counterpart, Secretary of State Hillary Clinton for talks in Washington.
Clinton told media after her meeting that the U.S.-UK relationship stood the test of time, adding: "Our two countries have stood side by side confronting global challenges for a very long time. We share fundamental values and important fundamental objectives."
E-mail to a friend

All About Guantanamo Bay • Torture