From Jill Dougherty and Elise Labott
CNN






WASHINGTON (CNN) -- Secretary of State Hillary Clinton signaled Tuesday that the United States might rethink plans for a missile defense shield in Europe if Iran decides against pursuing nuclear weapons.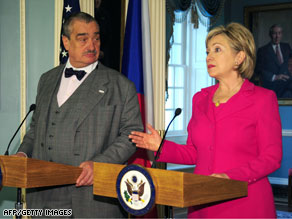 U.S. Secretary of State Hillary Clinton and Czech Foreign Minister Karel Schwarzenberg held talks Tuesday.
"If we are able to see a change in behavior on the part of the Iranians, then we will reconsider where we stand, but we are a long, long way from seeing such evidence of any change in behavior," Clinton said after a meeting in Washington with Czech Foreign Minister Karel Schwarzenberg, whose country holds the rotating European Union presidency.
The Bush administration signed deals last summer to place radar units for the missile defense system inside the borders of the Czech Republic and interceptor missiles in Poland.
The move angered Moscow, which said the system could be used against Russia. The Bush White House went ahead with its plans for the missile defense system, insisting it was planned primarily as a deterrent to Iran's suspected nuclear ambitions.
Senior State Department officials acknowledged Tuesday that the new administration is shifting the emphasis to focus explicitly on the Iranian threat and to persuade Russia to help the United States counter it.
President Obama, during last year's campaign, questioned the feasibility of a missile defense system. Echoing those comments, Clinton said Tuesday the United States has some "technical" issues relating to the shield, and it will work with its European allies to encourage Iran not to develop a nuclear weapon.
The message "was different publicly" from the one given to Russia privately, one official said. The message to Russia is that if a threat from Iran "doesn't materialize, then there is not as much of a need" for missile defense, the official said.
The official said that Vice President Joseph Biden communicated the shift in private meetings at a security conference in Munich, Germany, this past weekend.
The timing of the new U.S. approach to hit home the danger of the Iranian threat comes on the heels of Iran's launching of a satellite into space last week.
"If the Iranians continue on this path, certainly one of the options for free countries like the Czech Republic, other Europeans and the United States is to defend ourselves," Clinton said. "So, this is one of those issues that really will rest with the decisions made by the Iranian government."
Her comments come as the United States trades offers for talks with Iran, which insists its nuclear program is for peaceful energy-production purposes. Iran's president said Tuesday his country would welcome talks with the United States "in a fair atmosphere with mutual respect."
Mahmoud Ahmadinejad made the remarks a day after Obama said the United States is looking for opportunities for "face-to-face" dialogue with Iran, even though he has "deep concerns" about Tehran's actions.
In his first prime-time news conference Monday night, Obama was asked about thawing U.S. relations with Iran.
"There's been a lot of mistrust built up over the years, so it's not going to happen overnight," he replied.
He said his administration is reviewing existing U.S. policy toward Iran, which supports groups Washington has branded as terrorist organizations, such as Hezbollah in Lebanon and Hamas in Gaza, and has defied U.N. demands to halt its uranium enrichment program.
Challenging Iranian officials to demonstrate "a willingness to unclench their fist," Clinton said she hoped there would be an opportunity for Washington and Tehran to begin a serious discussion about a range of issues and develop "a better understanding of one another."
E-mail to a friend

All About Iran • Hillary Clinton