(CNN) -- European Union peacekeepers in Bosnia on Tuesday raided homes belonging to family members of Ratko Mladic, the highest-ranking figure still at large from the Balkan conflict in the mid 1990s, Serbian media reported.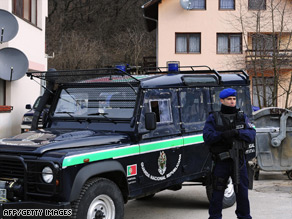 Portuguese peacekeepers stand guard outside a home raided on Tuesday.
The force raided houses belonging to Mladic's sister, Milica Avram, and sister-in-law, Radinka Mladic, in East Sarajevo, an area of the city inside the Bosnian Serb-controlled Republika Srpska, a seperate political entity to the Muslim-Croat-controlled Bosnia-Croat Federation.
The raids were a part of a broader operation targeting locations and people who are believed to be helping Mladic evade trial, the reports said.
Serbian authorities recently put up "wanted" posters for Mladic at police stations across Serbia, reminding people of the 1 million euro ($1.3 million) reward for any information leading to Mladic's capture.
Mladic, who commanded the Bosnian Serb military during the 1992-95 war in Bosnia-Herzegovina, has been the Balkans' most wanted since former Bosnian Serb leader Radovan Karadzic was arrested in Belgrade last July.
The 66-year-old is wanted by the International Criminal Tribunal for the former Yugoslavia (ICTY) for allegedly overseeing the killings of almost 8,000 Bosnian Muslim men and boys in the town of Srebrenica in July 1995.
Mladic is charged with genocide, crimes against humanity, and violations of the laws of war. He has been on the run for 13 years, ever since the ICTY issued the indictments against him.
The ICTY has accused Serbia of knowing Mladic's whereabouts and letting him slip through their hands. Serbia's status as a candidate for European Union membership also remains conditional on Mladic being handed over to the ICTY.
Serbian leaders have denied protecting Mladic.
E-mail to a friend

All About War Crimes • Bosnia and Herzegovina • Ratko Mladic • Serbia