By Richard Allen Greene
CNN





(CNN) -- The gray-haired bishop speaks haltingly at first, choosing his words with care. He pauses, stumbles, repeats himself, underlines words vocally for emphasis. But then he warms to his topic, and the words begin to flow freely.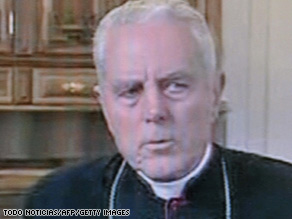 Bishop Richard Williamson says he believes "there were no gas chambers" at Auschwitz.
"I believe there were no gas chambers," he says.
He gestures expansively, describing with his hands as he speaks how a gas chamber should be constructed, arguing that the "gas chambers that are shown to tourists at Auschwitz" do not meet the requirements.
"I don't think six million Jews were gassed," he concludes in the television interview broadcast earlier this year.
The man, who insists he is relying on "the historical evidence," although he is in fact ignoring mountains of evidence, is Bishop Richard Williamson.
Shortly after the interview in which he made these claims, the Roman Catholic Church revoked the excommunication he had been under for more than 20 years.
The excommunication and its reversal had nothing to do with Williamson's denial of the Holocaust, but -- coming so soon on the heels of the interview -- it prompted furious criticism of the Vatican from Israel, Jewish leaders, Germany's chancellor and many within the Roman Catholic Church itself.
Williamson was to be high on the agenda when the Conference of Presidents of Major American Jewish Organizations held its first-ever meeting with the pope on Thursday, the umbrella group's executive vice president, Malcolm Hoenlein, told CNN.
"They should not tolerate those who hold such outrageous and abhorrent views," Hoenlein said.
Don't Miss
The Vatican has ordered Williamson to "distance himself" from his views on the Holocaust, and Pope Benedict XVI has reiterated his condemnation of the Nazi effort to destroy European Jewry -- moves which Hoenlein welcomed.
"The pope's statement is really important," he said. But he said it had to be part of a broader pattern of rejecting Holocaust denial.
"This is not a one-shot deal," he said. "We hope there would be an ongoing addressing of this inside the church and outside the church to show that this is reprehensible."
Williamson is part of a small but vocal movement that denies that Adolf Hitler's Nazi regime systematically murdered millions of people during World War II simply because of who they were -- most of them Jews, but also homosexuals, Gypsies, political opponents and others.
Many Holocaust deniers claim they are "revisionist" historians, but serious scholars reject such "revisionism."
"It's not a matter of opinion. So when deniers say they want to have the other side of the story, they would like to deny the facts," said Paul Shapiro, director of the center for advanced Holocaust studies at the United States Holocaust Memorial Museum.
"Williamson's claims are so ludicrous it's almost laughable," said Deborah Lipstadt, a leading scholar of Holocaust denial.
But that does not mean he is not dangerous, she said.
"People who know nothing and listen to Williamson, with his British accent, and he's in a bishop's outfit, and he sounds rational, say, 'Hmm, maybe there's something to it,'" she said.
Lipstadt, the author of "Denying the Holocaust: The Growing Assault on Truth and Memory," said there was no way to know how many people believed the claims of Holocaust deniers.
But she said their agenda was clear.
"Holocaust denial is a form of anti-Semitism. Essentially what it is arguing is that the Jews made this up to get the sympathy of the world and maybe to get money," she said.

See a timeline of the Holocaust and its denial »
Holocaust denial is far from being a particularly Catholic phenomenon, but Williamson belongs to an ultra-conservative Catholic sect where Lipstadt said she was not surprised to find a denier.
The group, the Society of St. Pius X, refuses to accept the Second Vatican Council of the early 1960s, which rejected the centuries-old belief that the Jews killed Jesus, switched from the Latin Mass to prayers in local languages and instituted other reforms.
"They are the old-line Catholic anti-Semites, which have become rare in the Church hierarchy," Lipstadt said.
But their views were once the norm.
"When Vatican II repudiates the Christ-killer myth, this is the most radical rethinking of Christian thought since the New Testament, or at least since Augustine," said James Carroll, author of "Constantine's Sword," a history of Catholic anti-Semitism. "Williamson says this is so basic, it can't be true."

See what's behind the controversy »
The rehabilitation of a Holocaust denier would have been controversial enough simply given the Catholic Church's historically difficult relationship with the Jews, but it is even more problematic because Pope Benedict XVI is a German who was born in 1927.
"He bears the whole history of 20th-century Germany on his shoulders," said Ruth Ellen Gruber, who has written extensively on Catholic-Jewish relations.
And he succeeded a pope who made extraordinary outreach to Jews, she said.
"John Paul II made furthering relations with the Jews, and also promoting awareness of the Holocaust, one of main tenets of his papacy," she said.
There were concerns when Benedict became pope that he would not follow in his predecessor's footsteps, said Gruber, the author of "Virtually Jewish: Reinventing Jewish Culture in Europe."
The jury is still out, she said.
"He has made the right declarations. He met right away with Jewish leaders. He has gone to synagogues in Germany and the United States," she said. "But there are other things that have been done to cause some to say this is the worst crisis in Jewish-Catholic relations for years, including the reintroduction of the Latin Mass for Easter, which some see as calling for the conversion of the Jews."
A papal spokesman said Benedict did not know of Williamson's Holocaust denial when the excommunication was lifted, but Gruber said that will not satisfy everyone.
"The Vatican is a top-down organization. The buck stops with him. If he didn't know that, it means that somebody kept the information from him and also that he didn't care."
But some leading advocates of Catholic-Jewish relations say the Williamson affair might actually have long-term benefits.
"I certainly would have wished that we would not have had this in the first place," said Rabbi David Rosen, international director of interreligious affairs for the American Jewish Committee.

"It has done both damage and a service. It has left a perception that not all is well within Rome as far as Catholic-Jewish relations," he said. "But in substance you have seen an amazing rallying of Catholic bishops, Catholic congressmen, all essentially rallying to Vatican II. The boil has been lanced and the poison cannot pass through."
"The greatest damage," Rosen concluded, "has been to the church's own image."
E-mail to a friend

All About The Holocaust • Pope Benedict XVI • Judaism • Society of St. Pius X