(CNN) -- A prominent British lawyer was convicted Tuesday of taking a $600,000 bribe in a case that could have implications for Italian Prime Minister Silvio Berlusconi, media reports said.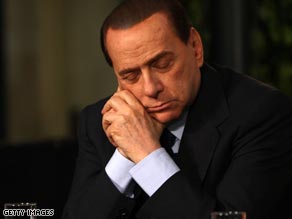 Berlusconi was due to have been a defendant in the trial but gained immunity from prosecution.
An Italian court sentenced David Mills to four-and-a-half years in prison. Berlusconi was originally also a defendant in the trial -- accused of paying Mills the bribe -- but was elected prime minister while it was going on and had parliament pass a law effectively granting him immunity from prosecution in the case.
The prosecution originally alleged that Berlusconi had paid Mills to lie in court on his behalf during corruption trials in the 1990s. The case continued against Mills alone after the law protecting Berlusconi came into effect.
Both Berlusconi and Mills say they are innocent.
"I am innocent, but this is a highly political case," Mills said in a statement reported by British media. "I am hopeful that the verdict and sentence will be set aside on appeal."
Mills was not in court for the trial or the verdict, and appears likely to stay out of jail during the appeals process, which can last years.
He is the estranged husband of British politician Tessa Jowell, who was Home Secretary under Tony Blair and is now the minister in charge of organizing the 2012 Olympics in London.
"This is a terrible blow for David," she said in a statement issued by her office. "Although we are separated, I have never doubted his innocence."
E-mail to a friend