By CNN Madrid Bureau Chief Al Goodman





MADRID, Spain (CNN) -- The Basque separatist group ETA is not running in the Basque regional parliamentary elections Sunday, but the future of the troubled region in northern Spain and the weakened-yet-still-dangerous ETA are utmost on many voters' minds.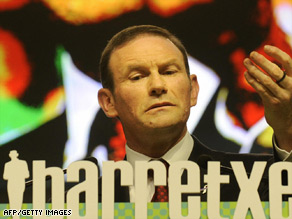 Current Basque regional president Juan Jose Ibarretxe speaks Friday in Bilbao.
Successive Basque votes over the years -- to elect the powerful 75-seat regional parliament and the Basque president -- are seen as a bellwether of the region's sentiment on how to end decades of ETA violence blamed for more than 800 deaths.
Nearly 1.8 million Basques are eligible to vote. One major poll by the El Pais newspaper predicted a 60 percent turnout, down from the 68 percent in the regional elections four years ago. The polls open at 9 a.m. (3 a.m. ET) and close at 8 p.m. (2 p.m. ET). Results are expected late Sunday.
ETA stands for Euskadi ta Askatasuna, or "Basque Homeland and Liberty" in the Basque language. The group wants an independent Basque homeland, but is classified as a terrorist group by the European Union and the United States, because of its car bombings and fatal shootings.
Some 600 ETA suspects or convicts are in Spanish jails, and three alleged top leaders of the group were arrested last year. But ETA has continued to defy officials with bomb attacks, including a major blast that damaged a construction company office in Madrid three weeks ago.
For the first time, political parties linked to ETA have been banned from running in the Basque elections. Spanish courts in recent years outlawed a leftist party called Batasuna, and others, saying they secretly and actively aided ETA. One such party holds nine seats in the outgoing parliament.
But those seats and many others may be up for grabs among the seven parties competing on Sunday.
The incumbent moderate Basque Nationalist Party -- which favors Basque self-determination but not ETA's violence -- is vying to continue its 30-year hold on power. It lacks a 38-seat majority but governs with smaller parties, and some polls say it could repeat that formula in this vote.
Its leader, Basque president Juan Jose Ibarretxe, has scolded two key competitors, the Basque branches of the Socialist Party and the conservative Popular Party, as being outsiders and puppets of their national offices in Madrid.
"On March 1, what's at stake is whether we decide policy here or whether it's decided in Madrid," Ibarretxe told Spanish newspaper El Pais, in an interview published on Friday.
But some polls indicate the Basque Socialist Party candidate, Patxi Lopez, could make historic gains and win more seats than the nationalists, although still coming up short of a majority. But even a one-seat advantage over the nationalists might put Lopez on track to become the first Socialist president of the region.
Lopez accuses the Basque nationalists of trying to divide the 2.1 million Basques, between those who favor self-determination and those who prefer to remain firmly a part of Spain.
He has vowed to govern for all Basques, and Spain's Socialist Prime Minister, Jose Luis Rodriguez Zapatero, has campaigned in the Basque region to support Lopez.
Spain's conservative opposition leader, Mariano Rajoy, has also gone to the Basque region to support the Popular Party candidate there, Antonio Basagoiti. The conservatives could win enough seats to be a potential deal-making governing partner with the Socialists, some polls say.
For years, Socialist and conservative politicians, even low-level town councilors in the Basque region, have been protected by police or private bodyguards due to ETA death threats. Several have been killed nonetheless. But this year, the Basque nationalist party also has come under ETA attack.
ETA violence is a regular feature of Basque and Spanish elections.
Earlier this week, a predawn bomb attributed to ETA heavily damaged a new Socialist party clubhouse in the Basque town of Lazkao. The next day, the son of a former Socialist councilman there swung a heavy mallet to smash the glass windows and damage a social club linked to leftist pro-independence supporters. That man has now fled the town.
An ETA statement on Friday, issued to the Basque newspaper Gara, called Sunday's elections "anti-democratic" and predicted they would result in a "fascist parliament."
ETA sometimes issues statements to Gara or other Basque media, outlining its political views or claiming responsibility for its attacks, days or weeks after they occur.
Spain's economic crisis is somewhat less an issue in the relatively prosperous Basque region -- heavy on industry and services -- which still has slim economic growth and an unemployment rate of 8 percent, compared with the national average of nearly 14 percent.
The three-province Basque region, whose largest city is Bilbao, has extensive home-rule powers, including a regional police force that is involved in the fight against ETA, control of education and health care, and tax collection.
E-mail to a friend

All About ETA Separatist Group • Madrid • Spain