MOSCOW, Russia (CNN) -- Ukraine and Russia appear to have averted a new energy dispute that could have left Europe shivering, following a threat from Russian Prime Minister Vladimir Putin.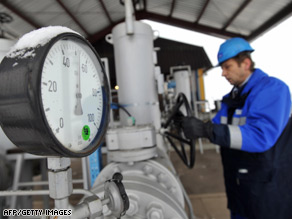 The dispute in January between Russia and Ukraine disrupted gas supplies to several European countries.
Putin warned Thursday that Russia would cut off natural gas to Ukraine -- and Europe -- if Kiev did not pay for its gas deliveries by Saturday.
The threat came less than two months after the end of a harsh dispute between Moscow and Kiev that left much of Europe with severely reduced energy supplies for two weeks during a bitterly cold January.
Shortly after Putin's remarks were televised, Russian energy giant Gazprom said its Ukrainian counterpart had "fully paid" for gas shipped in February -- $50 million.
The latest round of brinkmanship came a day after Ukraine's Security Service launched a raid on Naftogaz, the country's state-run gas company. Ukraine's President Viktor Yushchenko backed the raid.
They were searching for documents in an apparent effort to derail the gas deal Ukrainian Prime Minister Yulia Tymoshenko reached with Russia's Gazprom in January, according to a Naftogaz spokesman. The Ukrainian president and prime minister are political rivals.
Don't Miss
Putin said he is concerned about the raid "because we're hearing about attempts to seize the transit contract. Not its copy, but the original of the transit contract." He also expressed a more global concern about Ukraine, saying the ongoing uncertainty "raises a question about Ukraine's abilities to be a partner and a contributor to energy solutions."
The dispute between the two countries at the start of the year affected millions of Europeans who depend on Russian gas supplies that go through Ukraine.
Russia is a major supplier of natural gas to more than a dozen European countries and Ukraine is a major transit country for that gas to the rest of Europe.
It began as a bilateral disagreement over shipments of Russian gas to Ukraine, but grew to affect much of Europe when, on January 7, all Russian gas supplies through Ukraine were shut off.
The two countries blamed each other for turning off the taps. The dispute went on for two weeks, leaving many Europeans in the cold, before the two sides signed a deal to resolve it.
The Security Service opened a criminal case Monday into alleged misappropriation of 6.3 billion cubic meters of transit gas worth more than 7.4 billion hryvnia ($880 million) by a group of Naftogaz officers. Taras Shepitko, a deputy chief of an Energy Regional Customs division under the State Customs Service, was detained as part of the case.
E-mail to a friend

CNN's Yuri Pushkin and Mike Sefanov contributed to this report.
All About Ukraine • Vladimir Putin • Russia