By Melissa Gray
CNN





LONDON, England (CNN) -- As many as 400 people may have gotten sick after eating at a renowned Michelin-starred restaurant in England, health authorities said Friday.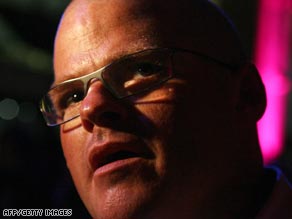 Blumenthal opened The Fat Duck in 1995, and it received three Michelin stars in 2004.
The Health Protection Agency is investigating an outbreak of diarrhea and vomiting among diners who ate at The Fat Duck restaurant in Berkshire, run by award-winning chef Heston Blumenthal.
Investigators still don't know the source of the outbreak, the HPA said. They are examining foodstuffs, food storage, and preparation and cooking practices in addition to samples from sickened diners and all members of staff, the HPA said.
"This is a very complex outbreak," said Graham Bickler, the HPA's regional director. "We are working closely with the restaurant and with colleagues in the Royal Borough's environmental health team to explain what happened and to ensure that the risks of it happening again are reduced as much as possible."
The problems forced Blumenthal to close his famed restaurant voluntarily last week after a number of people reported being ill soon after eating there, the HPA said.
The HPA said the number jumped to around 400 possible cases on Thursday after it started investigating cases going back to late January.
Representatives of The Fat Duck could not immediately be reached. The HPA said the restaurant management is cooperating fully with the investigation.
The Fat Duck is renowned for such eccentric items as snail porridge, salmon poached in licorice gel, and scrambled egg and bacon ice cream.
Diners must book at least two months in advance. The restaurant charges £130 ($185) for the tasting menu and £98 ($140) for a la carte.
A native Londoner, Blumenthal trained himself in French cuisine after failing to find work as a teenager in top London restaurants, according to his restaurant's Web site. He worked in various jobs to fund trips to France to learn about cooking and wines.
Blumenthal opened The Fat Duck in 1995, and it received three Michelin stars in 2004. A year later, the restaurant was proclaimed the best in the world by the "50 Best" Academy of food critics, journalists, and chefs.
Blumenthal has had several TV food shows in Britain. His latest is the current "Heston's Feasts," in which he recreates historical recipes from ancient Rome to Victorian Britain.
E-mail to a friend

All About Heston Blumenthal