By CNN's Simon Hooper





LONDON, England (CNN) -- Friday's custard attack by an environmental campaigner on UK Business Secretary Peter Mandelson was the latest episode in a rich British tradition of political splatterings.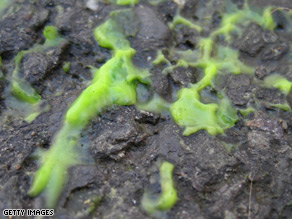 The remnants of Friday's custard attack on Peter Mandelson
The protester, aligned with the anti-airport expansion group Plane Stupid, stepped forward to greet Mandelson as he stepped out of his ministerial car Friday morning, before hurling the green gunk concealed within a coffee cup straight into the minister's face.
"Thankfully, it wasn't paint and I've come through it intact," Mandelson said afterwards.
A veteran and often controversial political operator, once nicknamed the "Prince of Darkness," Mandelson can perhaps take some solace from the fact that he had avoided a public dunking for so long.

Watch Mandelson get "slimed" »
Flying eggs, custard, paint and ink have long been an occupational hazard of a political career in the UK as Mandelson's Labour Party colleague, former deputy prime minister John Prescott, would attest.
At the 1998 British Music Awards -- an event which had acquired a reputation for iconoclastic protest after pop star Jarvis Cocker had two years earlier stormed the stage in outrage over Michael Jackson's overblown performance of "Earth Song" -- Prescott was doused with a jug of water by singer Danbert Nobacon, a member of the anarchist pop collective Chumbawumba.
Three years later, during the 2001 general election, Prescott responded to being yoked while on the campaign trail by swinging a punch at his egg-throwing assailant before the pair were separated by police.
In recent years, British politicians have lived in fear of Fathers 4 Justice, the group behind a series of high profile stunts to raise awareness about the issues faced by fathers separated from their children after family breakups.
In 2004, the group successfully targeted Tony Blair, hitting the then-prime minister with condoms filled with purple flour as he spoke in the House of Commons.
Don't Miss
Blair's education secretary Ruth Kelly also bore the brunt of Fathers 4 Justice's campaign. In 2006 a protester smashed an egg on the back of Kelly's head as she left a court where she had been giving evidence against another protester on trial for a previous attempt to handcuff himself to her.
"This is just one of those things that comes with being a politician," Kelly remarked.
Ben Davies, Online Editor at the New Statesman political magazine, said that attacking politicians was an easy way for campaign groups to drum up some publicity for their cause.
"I'm not sure if this gunge thing is a hangover from early childhood," Davies told CNN. "It's a bit slapstick and it gets whatever group a bit of media attention but it's all a bit distasteful." Political splatterings: "Distasteful" or "Healthily irreverent"? Sound Off below
Eggs have long been the weapon of choice for political assailants. In 1970, Labour prime minister Harold Wilson was hit by one in the face. Buffeted by economic troubles, he responded by remarking that at least the cost of living wasn't too high if people could still afford to throw eggs.
Wilson's Conservative successor as prime minister, Edward Heath, also recalled in his memoirs how someone had stubbed a cigarette out on the back of his neck amid the election night celebrations. "In those days, security was not as good as today," Heath said of the incident.
Two years later, Heath had a pot of ink thrown in his face and all over his suit by a female protester as he made his way to a signing ceremony to mark the UK's accession into the European Economic Community (later the European Union).

Historian Dominic Sandbrook told CNN that the UK's preference for dousing its elected leaders in viscous substances suggested a healthy skepticism not always to be found in U.S. politics.
"Not only does it show that we don't take our politics too seriously, it also suggests a healthily irreverent attitude to politicians themselves -- a far cry from the obsequious awe in which some of our cousins hold their political leaders," Sandbrook told CNN.
E-mail to a friend