(CNN) -- The gigolo former lover of Germany's richest woman has been jailed for six years after confessing to blackmailing her and other women out of millions of dollars, a court official said Monday.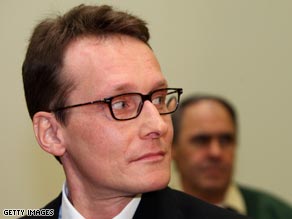 Helg Sgarbi has admitted blackmailing Germany's richest woman, Susanne Klatten.
Susanne Klatten, the BMW heiress, complained to police last year that Helg Sgarbi had threatened to release pictures of them if she did not pay him nearly $60 million.
Munich's state prosecutor Anton Winkler said Sgarbi, who was accused of blackmailing several wealthy women, had made a written confession which was read by his lawyer to the court.
"He confessed that he blackmailed the victims, told them untrue stories," Winkler told CNN.
However, Sgarbi had not revealed what had happened to the estimated $12.5 million he had taken from his victims nor where the pictures had gone.
"It is really only half a confession. We asked him about where the money is, about accomplices and videos... and he refused to say anything about that," Winkler said.
Authorities said Klatten, who is married with three children, had an affair with Sgarbi.
He started to ask her for money, and she paid several million at first, but when she refused to provide more he threatened to send compromising videos to her husband and the media.
Klatten went to the police in January 2008, telling them she was the victim of a fraud and blackmail.
At the time, her spokesman, Joerg Appelhans, told CNN that Sgarbi's goal had always been to con her.
"She rigorously notified authorities even in light of the uncomfortable public repercussions this would have for her," Appelhans said.
Sgarbi's lawyer, Egon Geis, said he was surprised by all the media attention.
"This is all because of Mrs. Klatten, take the same amount of money and any other person and no one would care."
Sgarbi allegedly maintained relationships with a number of women, telling them he was a special Swiss representative in crisis zones.

Klatten, the daughter of the late BMW chief Herbert Quandt, holds a 12.5-percent stake in the German carmaker and a 51.1-percent share of chemical company Altana.
Forbes magazine lists her as the world's 55th richest person, with a personal fortune of $13.2 billion.
E-mail to a friend

CNN's Fred Pleitgen contributed to this report.